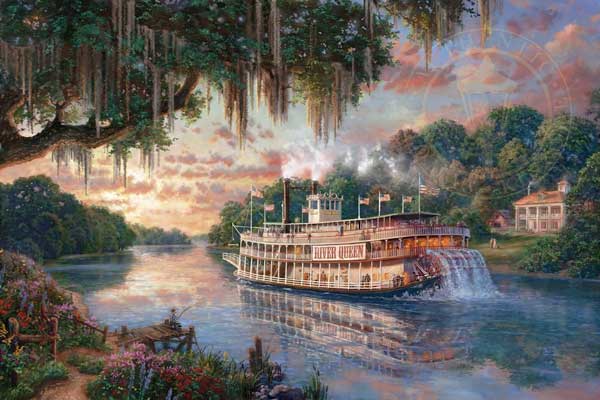 At Our Thomas Kinkade Signature galleries, displays peaceful, uplifting paintings of rivers, boat art, and paintings of streams. These paintings have a way of leaving impressions of serenity, perseverance, and joy upon you as the viewer. We invite you to find the painting that inspires you in our gallery today.
Kinkade Mountain Streams, Ships & Rivers
With so many people heading to the outdoors these days to find that simple solace that calms the soul, why not bring some inside? Harmony and light enhance any space in which these paintings are displayed. You can almost hear the trickling of a mountain stream, feel the rocking of a ship upon the waves and feel the splashes of sunshine reflecting off of a river in these beautiful paintings.
Boat, Brooke & Creek Art
At our Monterey Bay area galleries, you'll find paintings portraying rivers, fishing boat paintings, and sailboat paintings. Each canvas is expertly crafted with attention to even the smallest details. Some of our popular river, stream, and boat paintings include:
We have an incredible team of Art Consultants who ready to assist you in finding just the right piece. What a great gift to give someone who loves the outdoors, fishing, boating, or just loves Thomas Kinkade art. For the avid fisherman who is the tax accountant and needs to look up to escape the numbers for a moment, what a better place to look than at one of our river and stream paintings, or a beautiful boat painting on canvas.
The Serenity Of River Art
Come into our Thomas Kinkade Signature galleries in the Monterey Bay area to find the next addition to your collection or to find the piece that will start your new collection. Our selection of paintings featuring rivers, boats, and streams will transport you to a world of beauty. Come on by today. We look forward to seeing you.