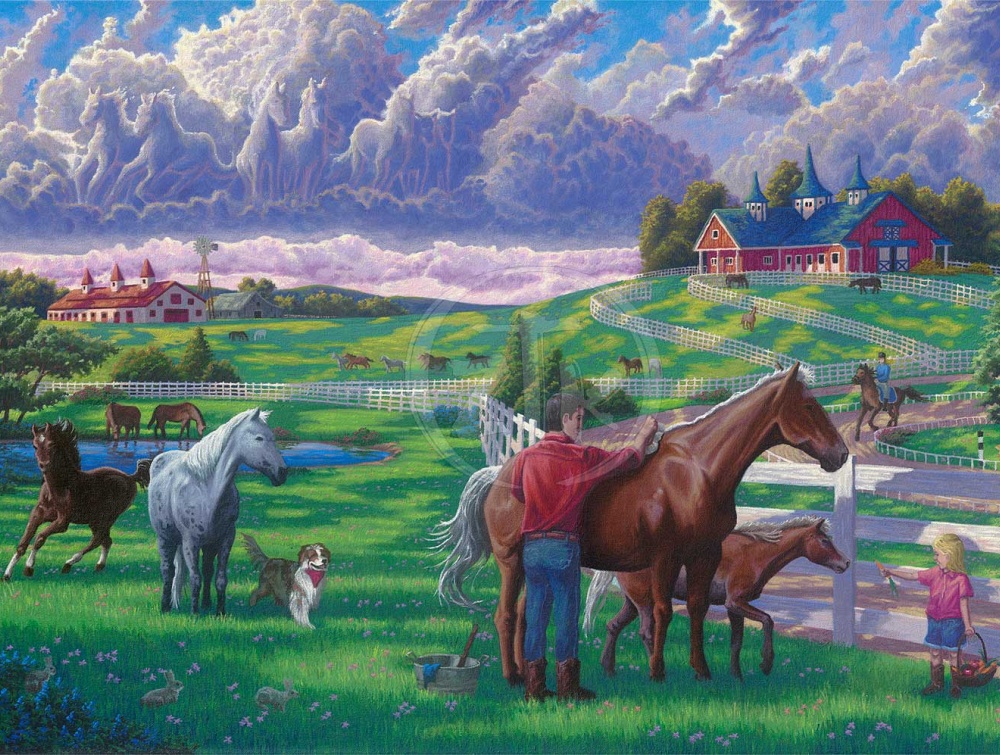 A multitude of stunning ranch and farm paintings can be found at our Thomas Kinkade Caramel, Monterey, and Placerville, California art galleries. Looking for the perfect farm scene paintings, horse paintings, or just want a piece of fine art that captures that quintessential small-town farming community spirit?
We have an amazing selection of choices available.
Unforgettable Farmhouse Art
There's something quite serene about gazing at exquisite artwork that depicts a lovely farmhouse. It reminds us of a simpler time. You can just imagine this quiet, peaceful life away from traffic and the hectic city, whether you've ever lived on a farm or not.
We have an amazing selection of farm paintings. Charming farmhouses can complement your living room decor, add a touch of whimsy to your office wall, or make a thoughtful gift for a friend or family member.
It's Not A Farm Without A Barn
When you think of farms, barns and tractors are the first things that might come to mind. Barns are an integral part of many farms adding to their rustic charm. Barn paintings make excellent home decor for the popular, trendy farmhouse style. We have an abundance of options for you to choose from.
Ranch Paintings
Horses and ranches go hand in hand. Wall art showcasing horses has been a long-standing favorite among artists and art lovers alike for generations, and it's easy to see why. Horses are graceful creatures capable of doing amazing things. They can work hard while maintaining compassion and forming bonds with other creatures as well as the humans that care for and ride them.
We have a number of horse paintings that will have you smiling once you get them hanging in your home.
Art That Reflects Your Country Spirit
In Hank's Honkey Tonk, by Zac Kinkade, we see a small country honkey-tonk with a dance floor full of folks dressed in western wear. You can almost hear the country music playing. This is a scene that could be taking place in any small rural town. This canvas art piece will be right at home in your den or make the perfect gift for a music-loving friend.
In Country Memories, a Thomas Kinkade original piece, an endearing covered bridge provides safe passage over the river for old model cars and a couple in a horse-drawn carriage. A man in overalls waves at passersby while a young boy fishes nearby. Quaint church steeples are set amongst the autumn-colored foliage.
This tranquil piece of fine art would make a relaxing addition to your bedroom or study.
Find The Perfect Farm Scene Art In California
Finding thoughtful, unique gifts or a great new piece of home decor is easy with the help of our Thomas Kinkade Caramel, Monterey, and Placerville art consultants. With our knowledge and expertise, we can offer suggestions to help California art lovers and novices alike. Select a painting that captures the mood and subject matter you're hoping for.
Stop by one of our convenient California Thomas Kinkade art galleries today to find ranch and farm paintings that are second to none.