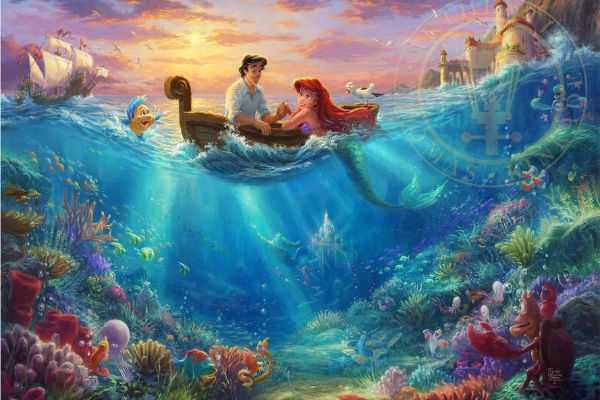 The Little Mermaid films are some of Disney's most beloved by children and adults alike. King Triton's daughter Ariel is the star, and she has a thirst for adventure and wants to learn about life beyond the sea.
She ultimately falls in love with the handsome Prince Eric and makes a deal with Ursula, an evil sea witch, to finally experience life on land. Many of these prized scenes and characters are beautifully re-created at the Thomas Kinkade Studios in California. Here are some of our most popular pieces.
Little Mermaid — Part of Your World
Disney Little Mermaid — Celebration of Love
Little Mermaid Falling in Love
Little Mermaid — Part of Your World
This vivid piece on canvas is titled Part of Your World and features Ariel, Eric, and her pal Flounder along with six other friends. They are creating a dazzling makeshift fountain surrounding a boat. Many sea creatures are playing musical instruments beneath the sparkling blue water as King Triton watches over the action and Ursula is nearby conjuring spells. This piece boasts vivid technicolor and is available in sizes 16 x 20 and 24 x 30.
Disney Little Mermaid — Celebration of Love
Little Mermaid Celebration of Love is the first Limited Edition Art in our series that portrays enduring love in Disney stories. This lighthearted piece features Ariel dancing on the seashore with Prince Eric. There is a remarkable sunset and a colorful rainbow that dominates the piece. Other characters represented include Scuttle, Flounder, Max, Sebastian, and King Triton, who are a part of the celebration of this loving connection.
This piece is available in canvas sizes:
12 x 18
18 x 27
24 x 36
28 x 42
Little Mermaid Falling in Love
Despite Arial and Eric living in different environments, this impressive work of art portrays the formation of love between them. A beautiful sunset and brilliant colors are presented in traditional Kindadian light in Little Mermaid Falling in Love. Atop the water, the couple meets at a small boat along with Flounder, and there's a grand ship in the background. Below the water, are vibrant coral reefs, sea creatures, and other heroes and villains from the movie.
Canvas sizes for this piece include:
Find Little Mermaid & Disney Paintings at Thomas Kinkade Studios
We have locations in Monterey, Carmel, and Placerville, California, and an extensive online collection of Disney princess art, Disney paintings for many movies and characters, fine art, and much more! With dozens of frame options, your artwork will be a special piece to display. Top choices include:
Antique Gold Frames
Burl Frames
Walnut Frames
Rustic Frames
Solid Black Frames
Victorian Style Frames
Traditional Gallery Frames
Stop into one of the galleries or contact us about shopping from anywhere online.