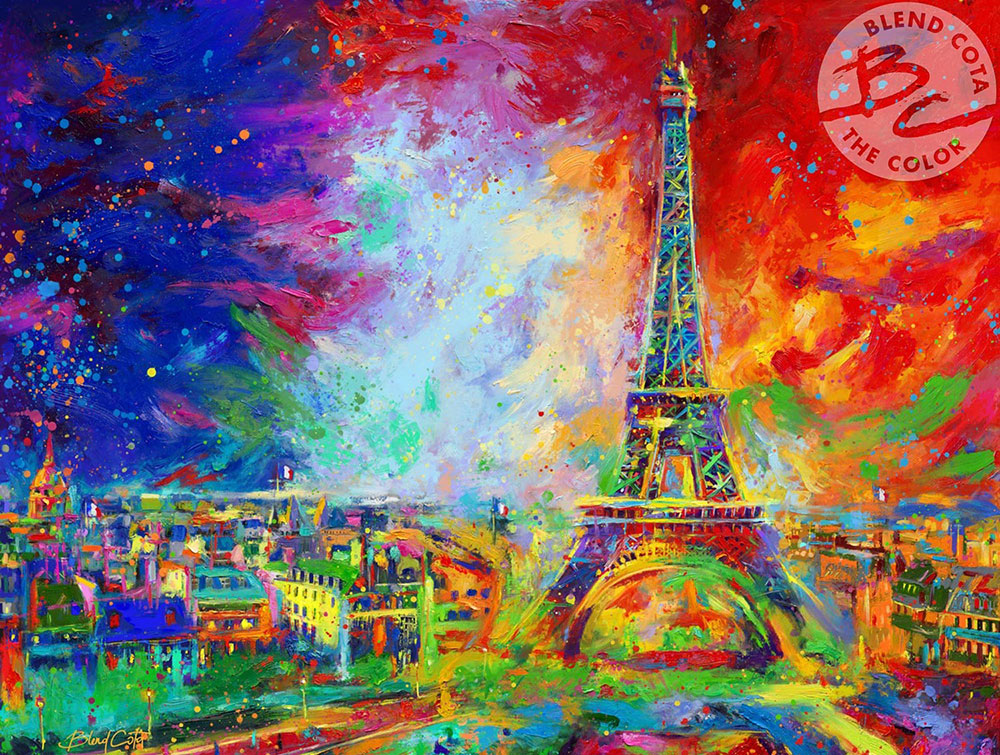 Whether you are looking to give a wall in your space a pop of color, or whether you are a fan of Batman, The Joker, and Harley Quinn, you'll find what you're looking for in our galleries. Our talented featured artist, Blend Cota, has created a wide selection of colorful pop art to showcase in your home or office. These beautiful paintings are sure to dazzle and excite you, find out for yourself today.
Colorful Pop Realism
Blend Cota, one of our featured artists, paints pop realism with a colorful flair. During his many years of experience, Blend has painted a wide variety of paintings. In his painting, Eiffel Tower, Blend masterfully captures the majesty of the Eiffel Tower standing against a backdrop of swirling colors. Blend captures another iconic monument, this time in the United States, with his painting, Vive La Liberte. The Statue of Liberty is given a colorful new look as she stands regally before the New York City landscape. Blend pays a tribute to Elvis, the king of rock and roll, in his appropriately named wall art, The King of Rock 'N' Roll.
DC Comics Come To Life In Vibrant Pop Colors
Blend Cota has recently released three new DC Comic paintings featuring Batman, The Joker, and Harley Quinn. In The Dark Knight, Batman watches over Gotham City as a powerful superhero in the night. The Joker & Harley Quinn features the notorious villain couple with a shadow of Batman lurking in the shadows waiting to protect the city against their evildoings. Daddy's Little Monster features Harley Quinn among an explosion of bright and colorful hues. With a mischievous expression on her face, you never know what she's going to do next.
Find the Perfect Pop Art Painting
Whether you are looking for a gift for that special someone or you are just looking for wall art for your home or office, our helpful art consultants will be there to help you select just the right piece. They will also help you to choose lighting solutions that will perfectly showcase your new wall art. Come in today and browse these and more stunning paintings in our gallery.