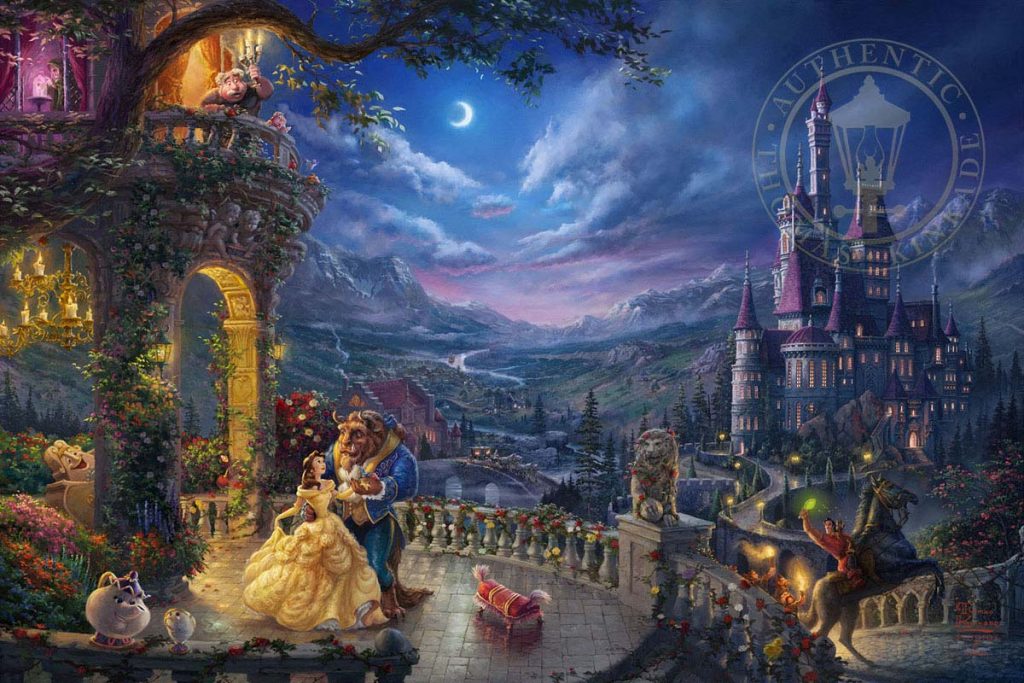 Bring a bit of bling into your life with paintings that sparkle, Jewel Edition Art from Thomas Kinkade in Carmel, Monterey, and Placerville, CA. Not only do these rare collectible art pieces have the detail and beauty of Kinkade's original paintings, but each Jewel Edition is enhanced to give it an extra sparkle.
The Beauty & Vibrancy Of Jewel Edition Art
Thomas Kinkade is known as the "Painter of Light." That light is given extra pizzazz in the special Jewel Edition Art collection. In this rare and highly collectible art, a unique "jewel dust" is applied to each painting, along with enhanced highlighting. An exclusive silkscreen remarque is applied to each painting to signify that it is a Jewel Edition Art piece. Visit our gallery, and you'll be amazed at the beauty and vibrancy of this special edition art in person.
Mickey And Minnie In The Glow Of Romance
Mickey and Minnie are one of America's favorite sweethearts. Their romance is all aglow in Thomas Kinkade Studios Jewel Edition Art. In the painting, Disney Mickey and Minnie — Sweetheart Cafe. In this painting, Mickey presents his sweetheart with gifts to show his love. The hand-applied jewel dust gives this couple an extra radiance.
The Glitz & Sparkle Of Classic Disney Movies
The artistry of our Limited Edition Disney movie paintings are exquisite. The additional enhanced highlighting of a Jewel Edition paintings makes them simply breathtaking. For instance, in the awe-inspiring piece, Fantasia, Mickey has a little extra sparkle in his magic as he summons the marching brooms through an array of colorful foliage. Some other favorite Disney movie paintings enhanced by Jewel Editions include:
Disneyland In The Radiance Of Sparkle
Disneyland is a magical place, and with a Jewel Edition Disneyland painting, you can enjoy that magic in the comfort of your own home. Disneyland is famous for its fireworks show, and in the Jewel Edition of the painting, Main Street, U.S.A.®, the spectacular fireworks display lights up Cinderella's Castle with extra sparkle, while young and old alike enjoy the show.
Bring Home A Painting That Sparks The Imagination Today
Whether you're looking for a gift for a loved one or you want to add a bit of sparkle to your home, you'll find what you're looking for with paintings that sparkle, Jewel Edition Art from Thomas Kinkade Studios. Visit our California Thomas Kinkade galleries today in Carmel, Monterey, or Placerville. Our art consultants look forward to helping you choose the perfect piece.