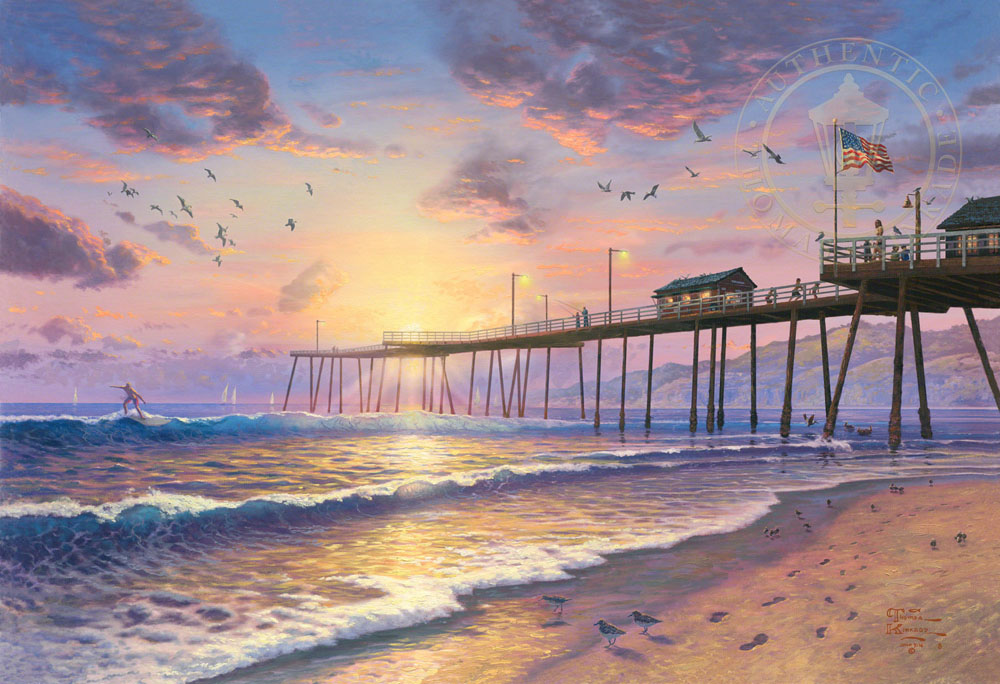 When winter winds blow, or the storms of life threaten to overwhelm, escape with paintings of beaches from our galleries. Let us be your guide to some of most the incredible beaches from around the world and help you find the perfect fit for your collection. When you hear the soothing sounds of the ocean and feel the sand between your toes, you'll know that's the one for you. Some of our favorite paintings of beaches include:
Some Of Our Favorite Paintings Of Beaches:
Sand & Sea
You can smell the salt air and even feel the sand between your toes with our Seaside Umbrellas and Footprints In The Sand offerings. Recapture precious memories of vacations spent in the sun with family or friends fishing off the pier, swimming, beachcombing, digging for clams or just relaxing on the sand.
Surfside Scenes
Experience the power and beauty of the pounding surf in Thomas Kinkade's Pacific Nocturne and San Francisco, Golden Gate Bridge. The painter of light perfectly captures the luminescence of the water and sky in these remarkable paintings of beaches.
Beaches Of The World
Travel with us to exotic locations and experience the romance of remote beaches. Recall your own adventures to exciting places, sipping a frosty drink under thatched umbrellas on Puerto Vallarta Beach or strolling The Beach At Nice and taking in the colorful beach cabanas.
Weekend Getaways
Explore the beautiful north coast beaches of California depicted in Capitola Sunset or Pacific Grove and find your own little romantic hideaway. Submerge yourself in a shimmering sunset or rich azure waters as you experience the sensory pleasure these beach paintings evoke.
Breathtaking Paintings Of Beaches
Whether you choose a scene that reminds you of a favorite vacation or one that stirs a sense of future adventures, we invite you to personally visit one of our galleries to see all of the paintings of beaches we have to offer.