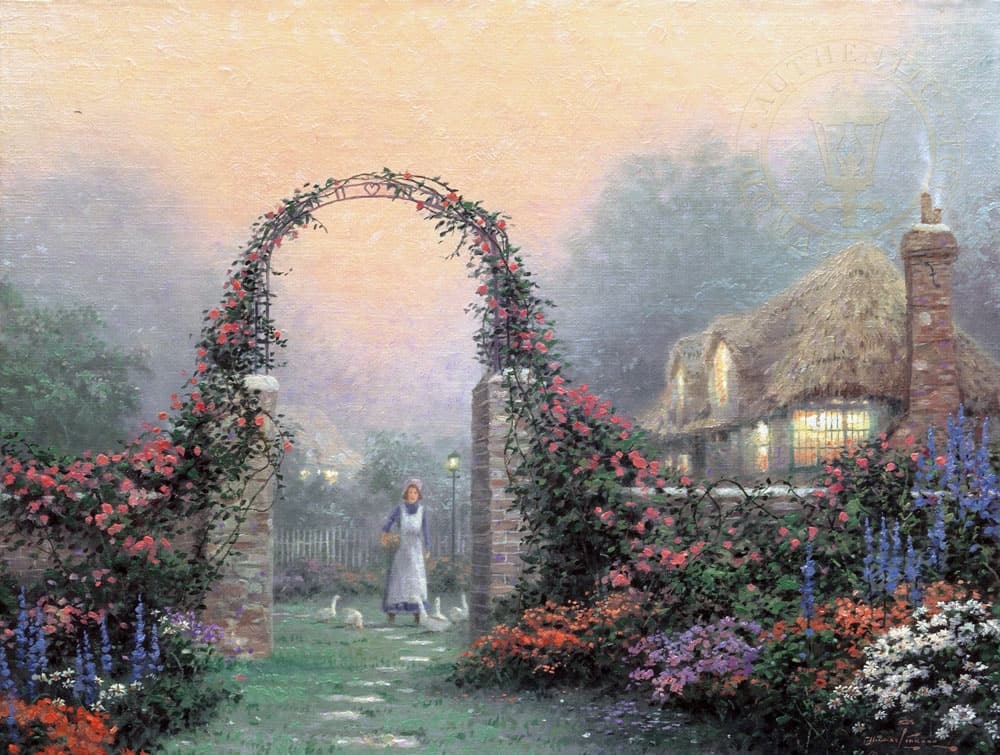 Skip the traditional bouquet and get your sweetheart a gift they're sure to remember with rose paintings from the Thomas Kinkade galleries in Monterey, Carmel, and Placerville, California. We carry stunning paintings featuring roses in delightful gardens, spilling over delicate archways, and even in colorful Disney scenes. Find out more about our flower-themed fine art.
Roses & Romance
Roses are not only stunning, they feature a wide array of colors, shapes, styles, and fragrances. It's no wonder they've been the symbol of love and romance for centuries. Invite a little more love into your life with rose paintings perfect for any room.
Beautiful Blooming Wall Art
Imagine your home bursting with colorful blooms that never need care or watering. Flowers bring beauty and elegance to a home. With a rose painting from our Thomas Kinkade galleries, you can enjoy the beauty of these special blooms all year long.
Our Rose-Themed Paintings
Imagine dining every day with the stunning roses featured in the painting, The Rose Garden. Surprise your sweetheart with A Perfect Red Rose hanging in the bedroom. Explore lush gardens and sweet moments with our rose wall art.
A Unique Gift That Lasts
A floral canvas painting is a gift that is not only beautiful and exquisitely crafted but will last for generations. Whether you are looking for an anniversary gift, Valentine's Day present, or something unique for a birthday, a rose painting from one of our Thomas Kinkade artists will help to show your special someone how much you love them.
Fing Rose Art In California
Take a stroll through the lovely rose paintings at our Thomas Kinkade art galleries in Monterey, Carmel, and Placerville, California. Our friendly art consultants will help you choose the right size, style, and lighting for your unique space. Visit us today to get started on your rose art collection.