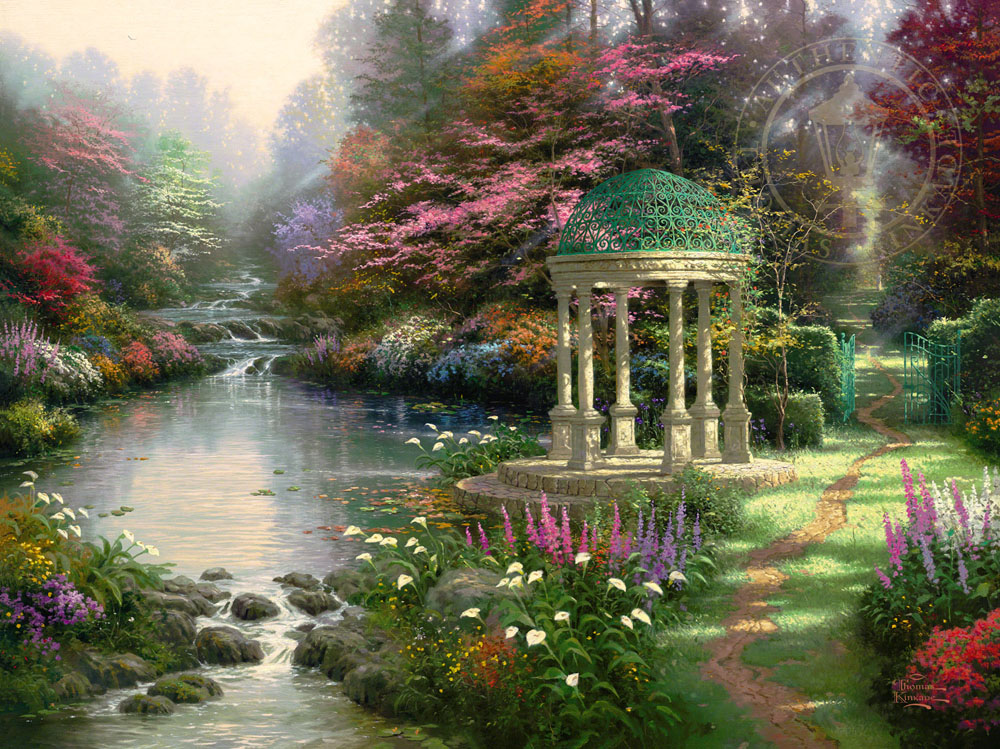 Find a unique gift for Mother's Day to spoil the women in your life from Thomas Kinkade in Monterey, CA. Our Limited Edition prints come in a wide range of genres and subjects to choose from. You are sure to find a Mother's Day painting to suit your mother, sister, spouse, or friend.
The Perfect Mother's Day Painting By Thomas Kinkade 
Thomas Kinkade California has over 20 categories of paintings available, ranging from cityscapes and country gardens to the sports arena. It won't be difficult to find a scene to please your mom. Just a few of the genres to choose from are:
Gazebos
Sunlight filters through a beautiful garden and floods a gazebo, creating a scene of peace and tranquility. What better way to escape the stresses of life for a moment than by gazing at a beautiful fine art Limited Edition painting by Thomas Kinkade. Some examples of gazebo paintings would include:
Disney Scenes
If your mother is a real Disney fan, perhaps the perfect Mother's Day gift is a Limited Edition painting of Mickey and Minnie, or other Disney characters, in lovely settings. Incorporated into the recognizable style of Thomas Kinkade, the characters add a whimsical touch to these fine art pieces.
Majestic Bridges
The symbolic nature of bridges makes these paintings universal. From a simple little country bridge to a stately structure spanning an extensive body of water, the idea of overcoming obstacles is charmingly conveyed in this genre of wall art. Some examples might include:
Oceans & Lighthouses
Dramatic or tranquil, the ocean can express any emotion. Brilliant colors at sunset or subtle midday sun accompany the many moods of the sea in these captivating paintings. Lighthouses have long represented a guide and hope amidst turmoil. An exquisite Thomas Kinkade lighthouse painting for Mother's Day is the perfect way to express what your mom has been to you throughout the years. There are many ocean and lighthouse scenes to choose from including:
Mother's Day Paintings From Thomas Kinkade
For a thoughtful Mother's Day painting, visit the Thomas Kinkade California Gallery today to experience in person the remarkable art displayed in our showrooms. Our selection of fine art is sure to be appreciated as a gift for the women of influence in your life on Mother's Day.