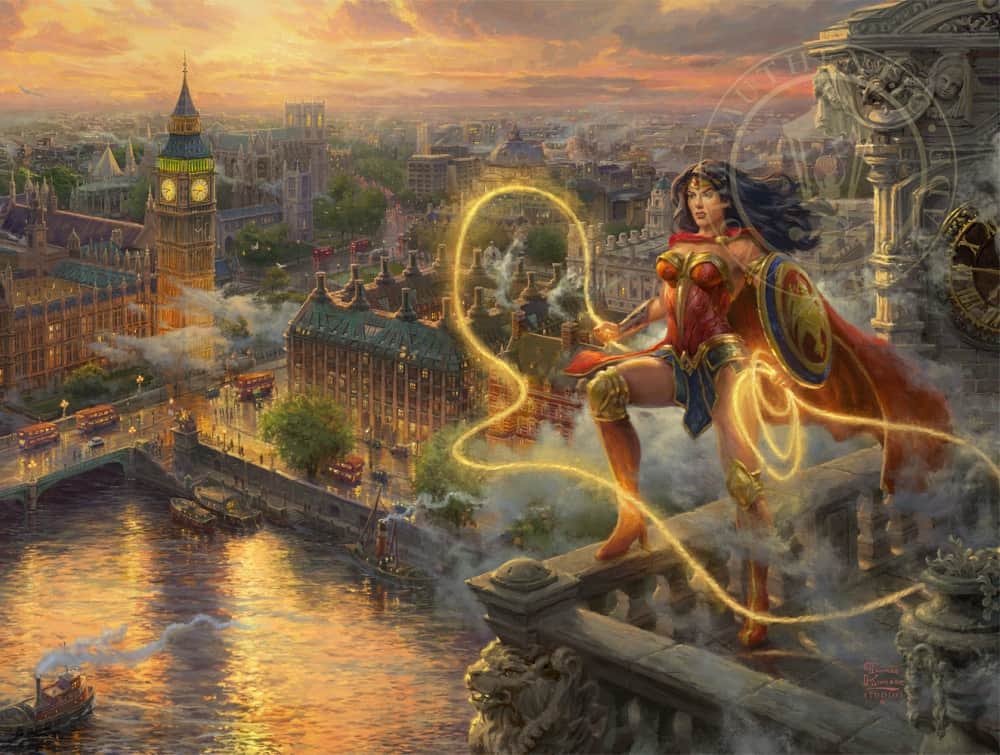 Invite a little more magic into your favorite spaces with paintings for fantasy fiction lovers from Thomas Kinkade Carmel, Monterey, and Placerville, California. From haunted groves to group adventures to happily ever afters – you're sure to find home decor full of flights of fancy and dream worlds to escape into.
Folk Tales Brought To Life
Vampires float freely among a motley crew of eons-old fairy folk in Zac Kinkade's Transylvania. The headless horseman takes a gallop across a sleeping trolls bridge as a black catch frolics among the lightning bugs on the outskirts of a dark town in the shade of a gloomy castle. This painting captures all that goes bump in the night while still keeping things incredibly family-friendly.
We all know someone who keeps the Halloween decorations up long past October. Consider this fantastical Limited Edition painting the next time a gift-giving occasion comes around.
Fairy Tale Wall Art
On the lighter side of everything fantasy live good witches, fairy godmothers, and enchanted castles. Dreams Come True captures the start of a timeless love story between Cinderella and her Prince Charming. In Follow The YELLOW BRICK ROAD, Dorothy dances away from Munchkinland full of hope and arm-in-arm with friends. Guardian Castle glows with potential high above a peaceful valley.
Surprise your favorite princess, decorate your library or classroom, or upgrade your home theater with these fantasy fiction scenes.
Super Home & Office Decor
If you're looking for fantasies a little more out of this world, we invite you to explore our selection of Super Hero and space saga art. Marvel, DC, and Star Wars have been entertaining and inspiring fans for decades. Continue the tradition with your children, grandchildren, students, patients, or patrons. We make it easy with fantasy fiction paintings starring the most beloved stars of these franchises – including Wonder Woman Lasso of Truth.
Paintings For Fantasy Fans In California
A California art gallery that caters to fans of fantasy fiction isn't hard to find. Our gallery stands out among the crowd when it comes to fantasy art. Come visit us at Thomas Kinkade in Monterey, Placerville, or Carmel today to see our wonderful selection.