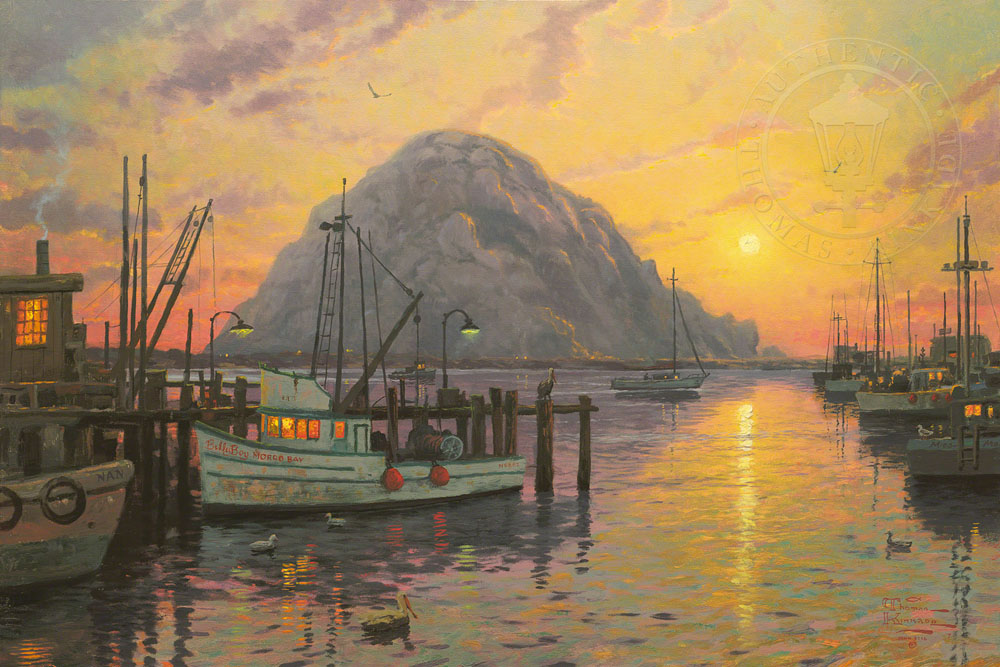 The Thomas Kinkade Galleries in Carmel, Monterey, and Placerville California are second to none when it comes to the amazing works of art that are sure to please the boat lover in your life. Who doesn't love standing on the shore just gazing out over the sea? It's just so peaceful.  When you notice a ship in the distance, rising and falling with each wave, you just can't stop watching. Bring this experience into your own home with one of our beautiful boat paintings.
Watercraft Wall Decor
Wall decor is a subtle way of sharing a bit of who you are with those that come around for a visit to your home or into your place of business. Rich, nautical themes work in a variety of private and professional settings. Share your love of sailboats, fishing boats, ships, paddleboats, skiffs, dingies, and all things the sea with sophisticated boat art by Thomas Kinkade.
Paintings By The Sea For Every Space
These paintings for boat lovers are found in all of our California galleries and are a great base to build your decor around or compliment your existing look.  Whether you are looking for an entryway boat painting, ship art for a waiting room, or that perfect gift, we can help. Come on in and find the art that speaks to you.
From Sailboats To Cruise Ships
When deciding on gifts for friends and loved ones who love boating, sailing, and fishing, don't waste any time guessing. We have art for everyone from the ole' fisherman and his little skiff to the yacht and cruise ship vacationers. Kinkade boat paintings are keepsakes to be treasured for generations to come.
Boat Paintings In California
With coastlines galore, California boat paintings often outdo many others. We're all about sunsets and sailboats, much like the painting, San Francisco, Fisherman's Wharf. Boat art can be so captivating and yet so relaxing to enjoy.
Why wait for a special occasion to shop for your Thomas Kinkade boat painting?  Make today a special occasion. Come on into one of our galleries in Carmel, Monterey or Placerville and peruse our collection of paintings for boat lovers.