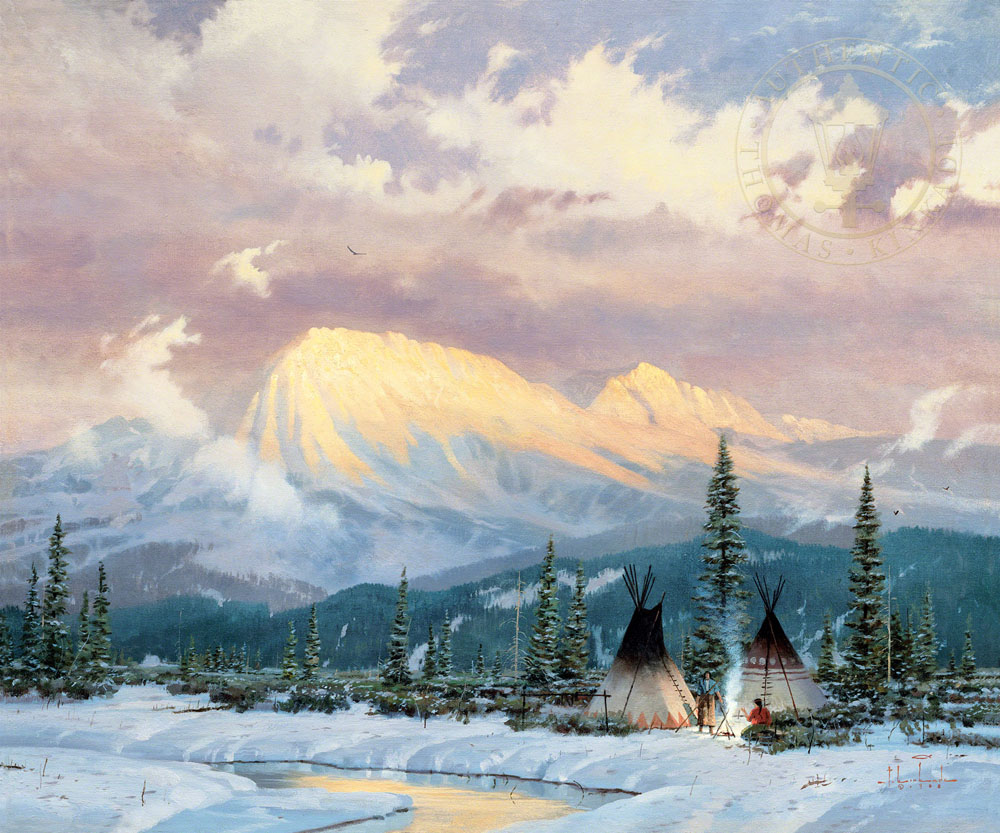 Enjoy Native American scenes at the Thomas Kinkade art galleries in Carmel, Monterey, and Placerville, California.
These historical American landscapes remind us of the beginnings of our young country. They make excellent gifts for the fans of all things Native American in your life.
Paintings Of Teepee Dwellings & Frontier Camps
Our Native American paintings represent an era when automobiles and planes were unheard of. Only the sounds of nature mattered. Envelope your peaceful spaces in the warmth and quiet of these natural scenes.
Native American Scene To Delight & Inspire
Whether its a Disney painting of Pocahontas and John Smith or a traditional Miwok Indian teepee encampment, Thomas Kinkade Native American art tells the tale of years gone by, of humble wisdom, and a reverence for the boundless borders of the Western world.
Vibrant Skies Beneath The Mountains
Let your imagination wander through snow-capped mountains that reach towards the Heavens, welcoming campfires, and crystal clear running streams and rivers. Visit the past without leaving your home.
Bringing History To Life
Our masterfully painted canvas art captures the light of each scene, illuminating the magic of nature and the brilliance of the sun. These techniques bring your Thomas Kinkade Native American paintings to life.
Art, A Timeless Gift
Our canvas paintings of Native American scenes are timeless gifts that would delight anyone drawn to the landscapes of historical America. Freshen up your own home decor or surprise someone you love.
Who wouldn't appreciate fine art in their home or office?
Fine art is a beautiful gift for most special occasions and is an excellent housewarming idea. If you or your gift receiver has an appreciation for Native American artwork, we can help you give them the gift of a lifetime.
Native American Art In California
We invite you to stop by one of our California Thomas Kinkade galleries to choose your art in person. If something online has caught your eye, contact us today to find out how to make this special piece your own.