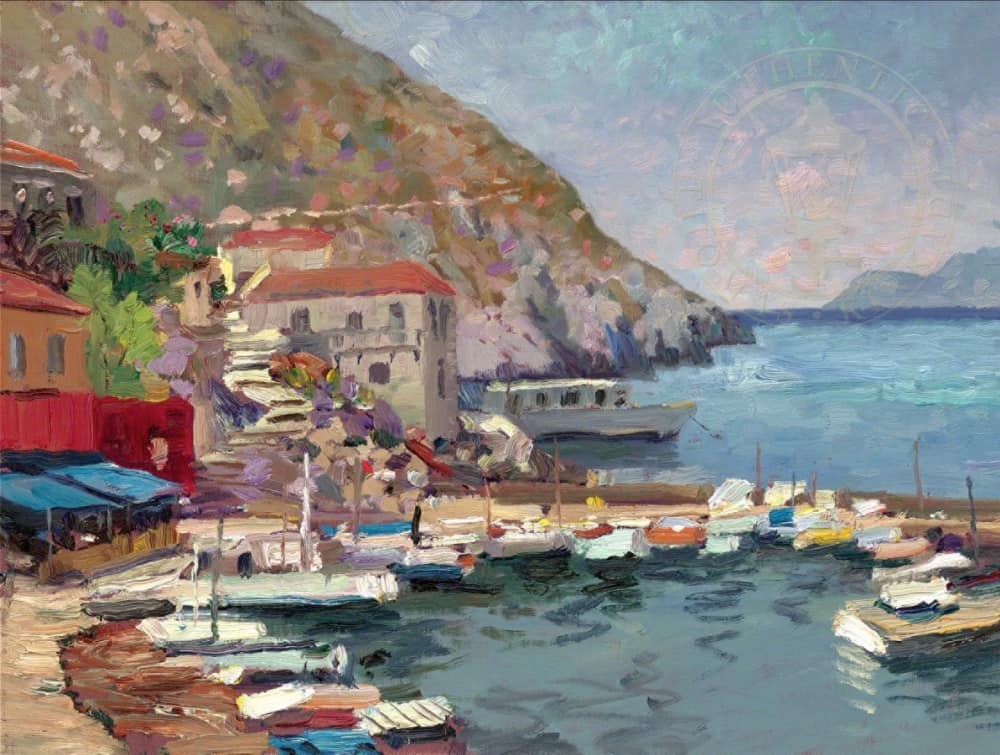 Take a mental vacation to exotic locations known for their charm and beauty with Mediterranean art from our Thomas Kinkade California galleries in Carmel, Monterey, and Placerville. You don't need a passport to stroll along the French Riviera, bask in the sun along the shores in Greece, or reflect in quiet contemplation in Israel.
Our art consultants can take you on an exciting journey through our Mediterranean art to help you find the perfect destination for your next staycation.
Mediterranean Decor For Your Home
Imagine bringing some of the world's most stunning landscapes into the places you love at home or work. You'll feel an extra touch of bedroom romance when you gaze at the iconic Eiffel Tower twinkling over the Seine River in the painting, Paris, City of Love. Dine along the French Riviera inside your very own dining room with the painting, French Riviera Cafe.
Looking for something dramatic, yet peaceful for that prominent place over your fireplace? A Prayer for Peace is certain to envelop your home in a beautiful feeling of calm. In this painting, a prophetic figure stands high on a rocky mound, basked in the moonlight, as he prays for the Israeli city down below.
Not only will you love the way our Mediterranean art looks on your walls, but you're sure to love the way it feels in your home.
Explore The Stunning Mediterranean Landscape
Cities along the Mediterranean coast are known for their mild climate, charming seaside villages, and of course, gorgeous views of the sea. Whether you live in a condo in the middle of a bustling city, a cabin deeply nestled in the woods, or a two-story home in the suburbs, you can bring some of the Mediterranean landscape into your day.
Here are just a few paintings from our Mediterranean art collection you might enjoy:
You'll want to visit our galleries to see the details of these stunning paintings in person.
The Unique Gift Of Travel
Would you like to gift your loved one an exotic trip without the hassle of packing, itineraries, exhausting layovers, and currency exchange? Send your loved one a little Mediterranean beauty instead, with our fine art.
Maybe you are looking for the perfect gift for mom for Mother's Day. Or maybe you want to remember your anniversary trip to Greece with a lovely work of art. Give a gift that will be cherished for generations, consider giving Mediterranean art.
Destination Art –  At Our California Art Galleries
Visit one of our Thomas Kinkade California art galleries in Carmel, Monterey, and Placerville today and bring home the beauty of the Mediterranean. Our friendly art consultants will help you find the right painting for your space. We look forward to seeing or hearing from you soon.