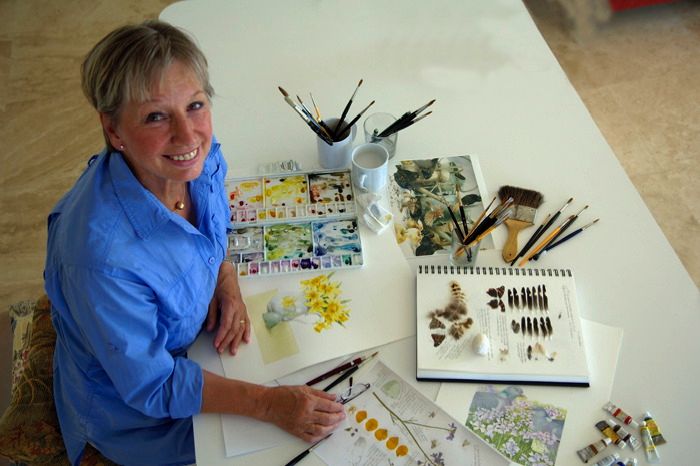 We are pleased to present Marjolein Bastin: About The Artist.
Marjolein Bastin's Connection To Nature From the Start
Marjolein Bastin's works were recognized very early in her career after attending the Academy of Arts in Arnhem, The Netherlands when she was asked to illustrate a one-page feature for the popular Dutch women's weekly "Libelle". A periodical for which she continues to illustrate for today.
Still, that doesn't include her earliest work or inspirations. Marjolein started collecting inspirational images as a toddler when her parents put her in touch with nature by removing her from her baby carriage, placing her in the grass of their home in the Netherlands and allowing her to feel and see it firsthand. Some of her earliest memories are the sights, sounds and smells she experienced from this vantage point. That connection to nature stayed with her as she grew into a child and adolescence. She would regularly collect little treasures from nature like flowers, interesting rocks, pine cones or seeds. She could find pleasure or beauty in the simplest of objects from the outdoors. It didn't take long before she was also capturing them in drawings and paintings each time trying to make her work look more exact than the one before and just trying to present her love of nature in as many ways possible.
Marjolein Bastin's work has became known worldwide. Her love for nature endured and is also shared through her works produced for her partnership with Hallmark. Nature is timeless and without physical bounds as her art created and shared throughout Europe and North America has shown. Her earliest memories of her connection to nature led her also to create children's books featuring Vera The Mouse, which she writes and illustrates.
Her Gift To You
Marjolein is also very connected to her family. She resides with her husband Gaston, and they spend their lives together between country homes in Holland, Switzerland and in Missouri, near Hallmark's headquarters. She also has a tropical retreat in the Cayman Islands which was the inspiration for her work "Caribbean Blue". Each place she stays or visits provides inspiration for the artwork she shares with the world. Her greatest works include her son and daughter Mischa and Sanna, who have gifted her with two grandchildren.
Her parents though passed, remain another crucial part of her inspiration. She can feel them with her in the sights and smells of life taking her back to those earliest days when she experienced the soft green grasses overlooking the banks of the Vecht River. As they remain in her heart, she creates art for the world.
From Marjolein's Desk To Our Galleries
Marjolein takes daily walks to draw inspiration further. She even continues collecting objects along the way, often bringing them back to her desk where she works daily from early morning hours into the evening drawing and painting from memory, with a photograph or her collections on her desk. Her fine art pieces include memorable works such as Herb Garden, Birdfeeder, Meadow Paradise and Whispers of a Hummingbird. Her works are highly detailed and often include her inspirational thoughts interwoven throughout the art.
Her incredible art style is extremely well suited for our galleries, and we are pleased to have it grace our walls. California residents and visitors are lucky to be able to see her works up close, just as she experiences with nature. Come in and experience Marjolein Bastin's view of the world around us, up close.