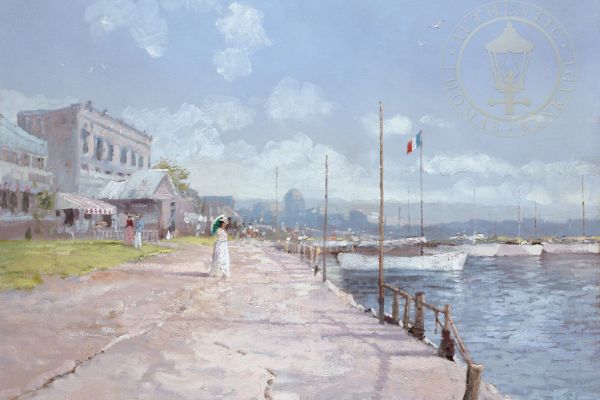 Enjoy the beauty of an impressionist style painting in your home or office with art from Thomas Kinkade Galleries in Carmel, Monterey, and Placerville. These landscapes and scenes of everyday life stand out because of their exceptional representation of both light and color.
We have many beautiful examples of his impressionist style paintings in our galleries.
What Is Impressionism?
Impressionism is a style of art that started in France in the 19th-century. It is widely considered to be the first style in the canon of modern art. Impressionist paintings are each unique, but have many characteristics in common.
Small, Thin, Visible Brush Strokes
Open Composition
Emphasis On The Accurate Depiction Of Light
Ordinary Subject Matter
Inclusion Of Movement
Unusual Visual Angles
Tiny Brushstrokes In Along The Coast
Along the Coast captures a quiet harbor that offers both peace and an inspiring vista to those who stand on its banks to reflect and dream. Through the use of tiny brush strokes, the soft evening light is captured in this quiet vacation scene, allowing you to almost smell the sea air. Along the Coast would be a wonderful addition to any room and an excellent gift for anyone who loves the ocean.
The Bold Color Of Sunlit Garden
Sunlit Garden, expresses a freedom of brushstroke and boldness of color that embraces the style of the French Impressionist masters. This painting would add peace to an office or be a great focal point for daydreaming in a library.
The Soft Light Of A Spring Meadows
The abundant blossoms of the Italian countryside are captured in Spring Meadows. The soft light and bold colors in this painting are ideal for living rooms or bedrooms. Anyone who loves to travel would enjoy receiving Spring Meadows as a gift.
A Bold, Bright Summertime Resort
Join the spectacle of summer on the beach in Summertime Resort. The boldly striped tents and brightly dressed people add a playful touch to a child's room or playroom. Anyone who loves summer would enjoy receiving this wonderful painting.
Movement In A Lakeside Stroll
The Impressionist style creates a sense of movement and activity in Lakeside Stroll. The sailboats add excitement to this peaceful lake, making this painting an excellent gift for those interested in boating.
Beautiful, Simple Seaside Umbrellas
In Seaside Umbrellas, the beauty and simplicity of a quiet afternoon on the beach are captured using the play of light on water and sand. Transport yourself to the beach under an umbrella listening to the sounds of gulls flying and waves breaking. Add a summer feel to your home or office with this unique painting.
Own An Impressionist Style Masterpiece Today
You can enjoy these gorgeous impressionist-style paintings any time you want when you bring home a Limited Edition painting from one of our California Thomas Kinkade galleries. Visit us today to purchase your own impressionist style art and paintings. Can't make it to our gallery? Contact us to place your online order.