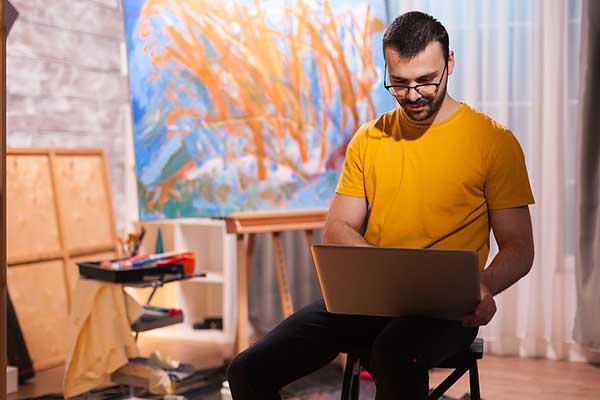 You see an online listing for a rare Thomas Kinkade original. How can you be sure this artwork is original or reassure buyers of your own artwork? The answer is provenance. We've put together tips, tricks, and everything you need to know about recording the history of your art.
What Does Provenance Mean?
According to The Getty Research Institute, provenance has to do with the history of ownership of a valuable object. Examples include paintings, books, antiques, sculptures, and other collectibles.
Why Should You Care About The History Of Your Artwork?
A full provenance, or complete record of your artwork's history, makes it easier to trace ownership, prove authenticity, and assign the work to the original artist. Art collecting can be an investment in your future or the future of your descendants.
Even if you collect for pure enjoyment, finding out your latest acquisition is a fake or the result of theft can be disappointing or even devastating.
Tips For Researching Art Provenance
"Complete provenance: the exception, not the rule." – Cornell University Johnson Museum Of Art
As important as provenance is, the older your collectible, the less likely you are to have full provenance. Therefore, tracking down a paper trail can be a challenge. Here are a few tips to get you started.
Document What You Have
Know Where To Look For More Information
Understand How To Read Provenance Records
Stuck? Visit a Fine Art Gallery Near You.
Keep A Physical & Digital Record Of What You Have
Purchase receipts, certificates of authenticity, restoration, and conservation records – this paperwork shouldn't be collected in a folder and left in a desk drawer to be forgotten about. Keep the latest links in your artwork's past safe from pests like rodents, mold, and insects. Make sure whoever is handling your art estate has copies and knows where to find the originals.
Lastly, back everything up digitally and keep copies in the cloud in case of flood, fire, or other disasters that may ruin your onsite computer files.
Records To Find & Protect Now
Creator
All Ownership History You Have Access To
Available Exhibition History
Publication History
Restoration & Conservation Efforts
Appraisal Value
Know Where To Look For More Information
You may have a process ahead of you, but thankfully, tracking down the origins and background of your art can start right from the comfort of your own home. You can find exhibition records, catalog raisonné (written by experts on your particular artist), and theft reports.
Understand How To Read Provenance Records
How do you read historical records once you find them? Cornell University's Johnson Museum Of Art has put together a great guide on how to read a provenance. You can find information on how to read listed dates, ownership information, sales, types of transactions, and common formats you might run into.
Learn More About Authentic Thomas Kinkade Paintings
For more information on your Thomas Kinkade collectibles, particularly, we invite you to visit a Thomas Kinkade fine art gallery in California. We have convenient locations in Placerville, Monterey, and Carmel. Our friendly Art Consultants will be happy to go over your authenticity documentation and recommend new additions to your collection.