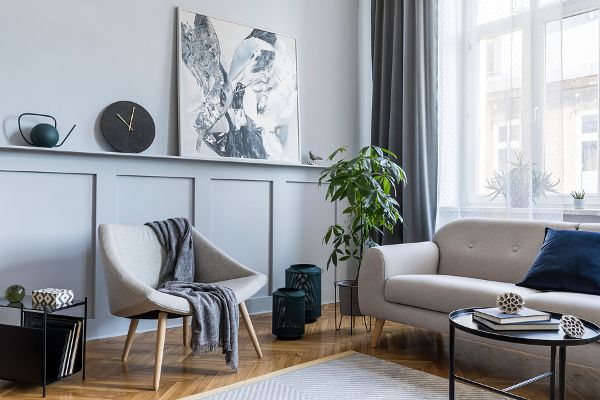 Having some beautiful works of art adorning your walls can make your space feel like home. Unfortunately, displaying your favorite fine art selections can be challenging if you're a renter or don't like putting holes in your walls.
It's Possible To Avoid Damage While Enjoying Art
Fortunately, there are ways to hang paintings while avoiding putting nails in the wall. These ideas are perfect for displaying and framing art in a rental or if you want to change the look of your home frequently while avoiding damage.
Insecure Hanging Fixtures
Damaged Artwork & Canvases
Crooked Alignment
Ripped Drywall
Try Damage-Free Hooks On Your Walls
You've probably already used (or at least seen) damage-free hooks that utilize a strong adhesive to connect a small hook or other fastener to just about any surface. Depending on the hook you purchase, these can hold anywhere from about a pound to several pounds, so they can be used to hang even a hefty piece of framed art.
The best part? When you want to remove or relocate a piece of art—like changing your favorite spring painting to something patriotic for Memorial Day—on your wall, these hooks come with a small tab that you can simply pull on to remove the adhesive from the surface without leaving any damage. While hanging art with adhesive may not be your first thought, this is often the best and most practical option.
Hang Paintings From A Rod Or Molding
If your home is blessed with picture rail molding, this offers an excellent opportunity for hanging fine art without damaging your walls. You'll simply need to find some hooks that will fit over the molding itself. From there, you can use a durable string or twine to attach your framed artwork to the hooks.
Hanging art from a picture rail molding (or even from a strategically placed curtain rod) is a great way to display your favorite pieces while having the ability to change them up as needed easily.
Display Art On A Flat Surface
You don't need to hang your favorite art when all else fails. You can use any available surface to create visual interest in your space. Just be sure to invest in a quality frame that will be stable when set down on a flat surface.
A Fireplace Mantle
An Open Bookshelf
A Buffet Or Accent Table
A Desk Or Shelves
Shop Fine Art At Thomas Kinkade Galleries
There are plenty of creative ways to hang and display fine art without putting holes in your walls. Looking for the perfect piece to adorn your space? Shop our galleries at Thomas Kinkade Carmel, Monterey, and Placerville, or contact us to get started!