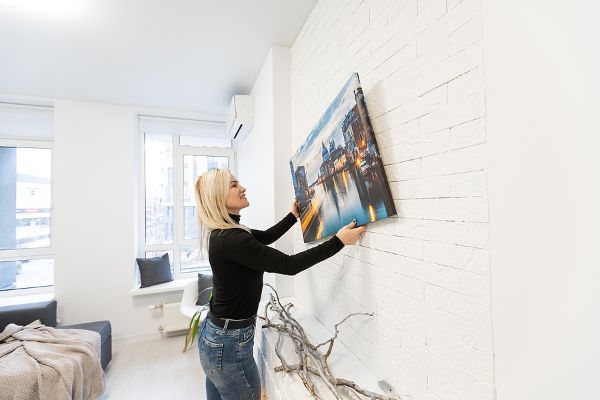 As collectors, you know art can transform your home decor, but what do you do when you acquire something special? Adding a unique sculpture, a wall art installation, or a particularly moving painting can elevate it to a whole new level. Deciding where and how to display it, on the other hand, can be a challenge.
Art As A Statement Piece
Before we get into tips and tricks for making your standout artwork, well – really stand out, what is a statement piece? There is no one set of rules here. Any type of decor that adds interest and personality to a space can fit the bill. A one-of-a-kind lighting fixture, a triptych of metal wall decor, and even furniture and rugs can make a statement.
When it comes to fine artwork, however, we're usually talking about sculpture, photography, and paintings. Here are a few ideas to get you decorating with statement art.
Create An Entryway Display
Add Color To A Neutral Room
Play With Scale – Go Big!
Don't Detract From Your Focal Point
A Stunning Display At The Entryway
Set the mood of your home from the moment you open the door by creating an entryway display focused on your fine art. You can prop a painting on top of an entry table or hang more than one canvas at eye level with appropriate lighting.
Bright, Bold Paintings That Pop
Neutral furnishings become part of the backdrop when you make vibrant artwork your centerpiece. You can start with your statement piece and then choose paint, furniture, and decor. Or you can choose an already blah room and bring it to life with brushstrokes on a canvas or the colorful curves of a statuette on a plinth.
Make A Statement With Size
If a photograph is worth a thousand words, how much is a really big photograph worth? Guests are sure to notice your large paintings right away. The size of the work can be a conversation starter and encourage quiet reflection depending on its details and complexity.
Think Before You Add
As a final tip, add to your space thoughtfully once you've displayed your statement piece. From time to time, make sure the eye is still drawn where you want it to be. The more you grow your collection or add to your home decor, the more likely you'll come across a competing piece of wall art, home accent, or even view if you hang art near a window.
Shop Fine Art In California
Now that you know a little more about decorating with statement art, we'd love to help you find exceptional paintings to enhance your home or office. Stop by any of our California Thomas Kinkade Galleries in Carmel, Placerville, or Monterey, today.