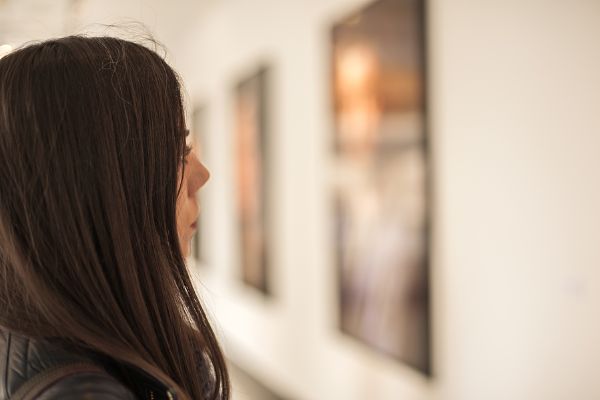 After you've chosen a new print or painting for your art collection, only half the battle is over and we want to help you get the most out of your new art piece.
Now you have to decide how to display your new artwork. This means selecting the right picture frame for hanging your wall art.
How do you choose a frame for wall art? We've put together a few tips to help you out.
Make Sure Your Art Is The Star
Decide Whether You Need A Mount Or Mat
Make Sure A Glass Front Is The Right Choice
Factor In Protection & Preservation
Think Location, Location, Location
Make Sure Your Art Is The Star
When frame shopping, it can be tempting to go for a frame that stands out and looks like a piece of artwork on its own. It's important to remember the purpose of your purchase, though. You don't want to overwhelm or draw the eye away from your new painting, drawing, or photograph.
Avoid bright colors, busy patterns, or heavy, thick woods that take the focus off your art.
Decide Whether You Need A Mount Or Mat
You may need a mounting board behind your artwork or a window mat in front of the piece. You don't want delicate pastels, powdery charcoal, or graphite pencil work rubbing off onto the glass after framing art.
A good rule of thumb is to use mounting and matting to frame artwork on paper.
Make Sure A Glass Front Is The Right Choice
What about types of frames for canvas paintings? The best frames for canvas art like acrylics, oil paintings, or high-quality prints take into account the characteristics of each medium.
An oil painting, for example, may need special care to prevent cracking while also allowing the piece to "breathe."
Factor In Protection & Preservation
On the same note, how will your new picture frame help to preserve and protect your wall art in the long run? You want to keep paper and canvas from tears, pests, and unnecessary moisture while also protecting the artwork from fading and nicks.
Think Location, Location, Location
In addition to thinking about how the frame will compliment your wall art, you'll want to think about where you plan to hang it. How does the frame you are considering look on the colored wall where it will be placed? Does it look right in the room and among the other artworks featured there?
Shop Wall Art In California
As you can see, choosing the right frame for wall art can be challenging. At the California galleries of Thomas Kinkade in Placerville, Carmel, and Monterey, our friendly, knowledgeable Art Consultants can guide you through the framing process whenever you purchase a painting from us. We can also help you decide upon the proper lighting and placement of your artwork.
Please stop by and see us today, or contact us to place your order.