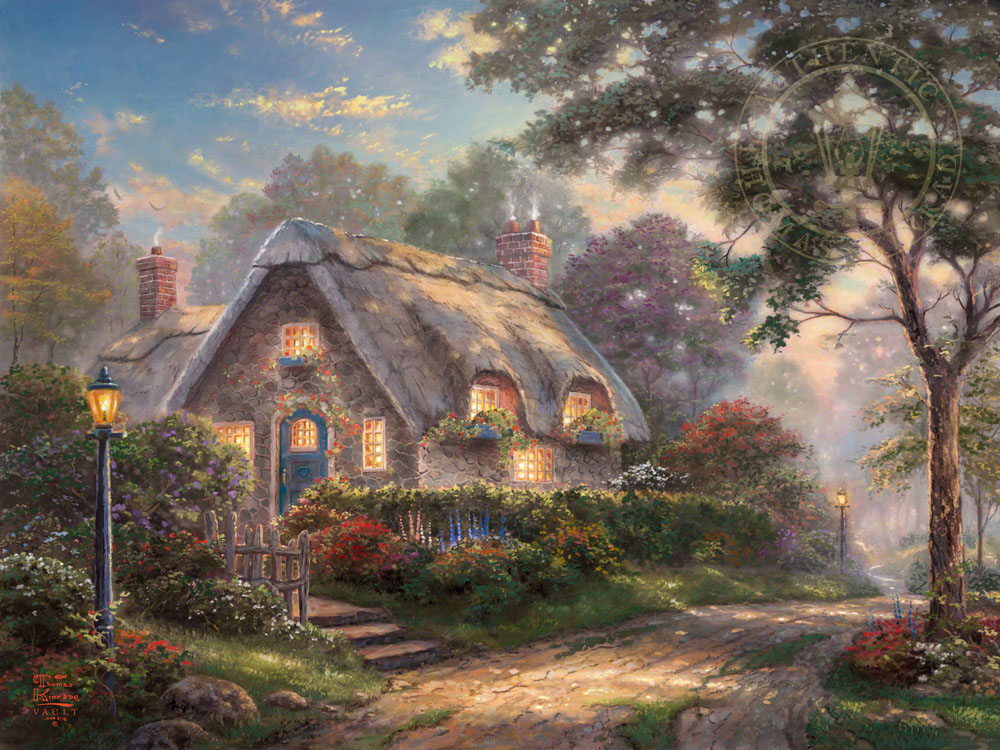 When shopping for gifts for new homeowners, we invite you to consider the timeless beauty of a Thomas Kinkade painting from our galleries. Our collection of art for the home is unmatchable in both quality and variety. Make sure your housewarming gift stands out from the crowd. Our team of art consultants can help you choose a piece that will be treasured by your loved ones for years to come. Visit us at one of our galleries to learn more.
Thomas Kinkade Home Art
Whether you choose a peaceful nature scene, a warm depiction of hearth and home, or a Limited Edition painting starring your favorite iconic movie characters, you can't go wrong with Thomas Kinkade art for the home. We carry interior decor that is as unique as your new homeowner. Maybe you are shopping for your own new home. If that's the case, consider the following popular choices as a jumping off point:
Start A Tradition
Choosing interior decor like the painting Garden Manor will create that warm feeling when families gather and memories are made. Reflections Of Family is the perfect centerpiece for a living or family room. It sets an atmosphere of both peace and contemplation. Lovelight Cottage and Abundant Harvest remind us that whether this is a couple's first house or a growing family's new house, love is the light that dwells within and shines outward into the world.
Art Makes A House A Home
Choose home decor that reflects the personalities and tastes of the new homeowner. Help them add a truly personal touch to their surroundings. As visitor after visitor sees these first impressions, and loved ones come to find comfort in them, paintings become part of what makes any space warm and inviting.
Fine Art
Fine art is always a good idea. Visit our galleries today for inspiring gifts for new home owners. Our gallery staff looks forward to helping you choose the painting that's right for you. Our elegant framing options compliment any space. Give the gift that will remind them of your good wishes for many years to come.