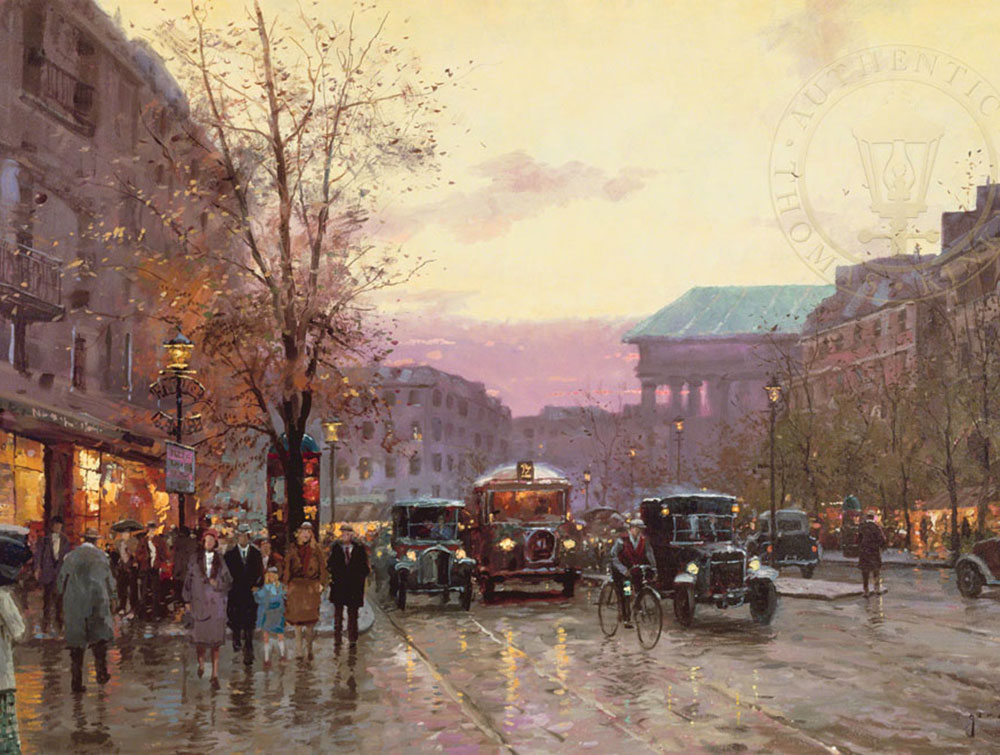 Enjoy the beauty of France in your home or office with French-themed art and paintings from Thomas Kinkade in Carmel, Monterey, and Placerville. With the elegance of Paris, the charm of the medieval villages, and the serenity of the coastal towns, France's beauty can't be beaten. When you come into our signature galleries, you'll be able to see the enchanting details of our French artwork in person.
French Art By Thomas Kinkade
Thomas Kinkade is known for the play of light and color in his paintings, bringing beautiful settings to life. Paris, the city of light, is the perfect backdrop to showcase this technique. In Kinkade's painting, Paris, Eiffel Tower, you can almost feel the romance of twilight as you gaze at the passers-by strolling along the River Seine. The city of light comes alive in a glow of twinkling lights in the painting, Paris, City of Love. Other French wall art by Thomas Kinkade include:
Blend Cota & The Eiffel Tower
Where Thomas Kinkade captures the mood of a landscape with small details and a soft color palette, Blend Cota captures the dramatic movement and emotion of his settings through swirling strokes of bold colors. The colorful palette of Blend's painting, Eiffel Tower, creates a passionate, romantic look at this iconic symbol.
Robert Girrard Captures French Style
For six years, Thomas Kinkade painted under the name of Robert Girrard. This allowed him to practice some of the different techniques he'd learned by studying different French impressionists, such as Monet, Manet, and Renoir. It's fitting that Thom used these techniques for many of his French art pieces. Evening on the Seine showcases this style with the bright lights of Paris contrasting with the subtle color palette of winter. Other French wall art painted under the name, Robert Girrard include:
Bring Home A Piece Of France Today
You don't have to travel thousands of miles to enjoy the beauty of France. You can enjoy these gorgeous landscapes any time you please when you bring home a Limited Edition French painting from one of our California Thomas Kinkade galleries. Our friendly art consultants will help you decide on the perfect painting for your wall, help you select a frame, and choose lighting options to highlight your piece.
Can't make it to our gallery? In-home showings and online ordering are available. Visit us today to purchase your own French-themed art and paintings.