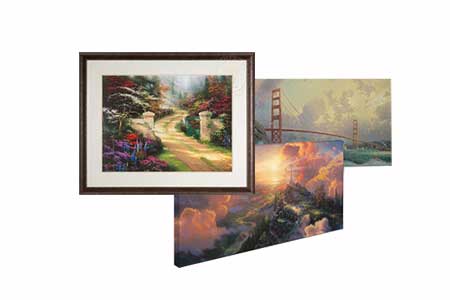 We invite you to explore the benefits of both framed art and gallery wrapped canvases in our galleries and discover which representation of your favorite piece is right for you.
Benefits Of Framed Art
A framed print from the Thomas Kinkade collection is a guaranteed show-stopper. We offer 14 different standard frames and four premium museum quality frames to suit a dazzling array of tastes and affections. Our team of experienced and knowledgeable art consultants will help guide you through the entire selection process. With a personally-selected framed piece from one of our gallery locations, you will enjoy a custom look that beautifully complements your home and personal taste. From minimal to rustic to the more elaborate and lavish, every piece is framed under the care of professionals who place importance on quality work and attention to detail.
Benefits Of Wrapped Canvas Art
A Gallery wrapped canvas involves a method of applying an image onto a quality canvas which is then stretched around the sides of a wooden stretcher frame so that the picture is not only on the front, but continues around all four sides. Our wrapped canvas prints are quality reproductions that are hand wrapped around a hardwood frame. Art enthusiasts who select wrapped canvases often purchase them because they are extremely versatile, lighter, and can be placed pretty much anywhere. They also look fantastic whether they are displayed on their own, or grouped together in a certain area.
Additionally, with wrapped canvases, there is no glass that can get cracked or scratched. A gallery wrapped canvas requires no mounting brackets to secure heavy frames. Because of this, our wrapped paintings have become an attractive option for many art lovers. Gallery wrapped canvases come in the following sizes:
8″ X 10″
14″ X 14″
16″ X 31″
20″ X 20″
Explore Our Extensive Collection Today
Visit us today and experience the world through the eyes of our amazing artists, while reveling in a fantastic array of scenes from around the globe. Our consultants are on hand to help answer any questions you have while you explore both our framed prints or wrapped canvas options for your home or the home of a special someone.