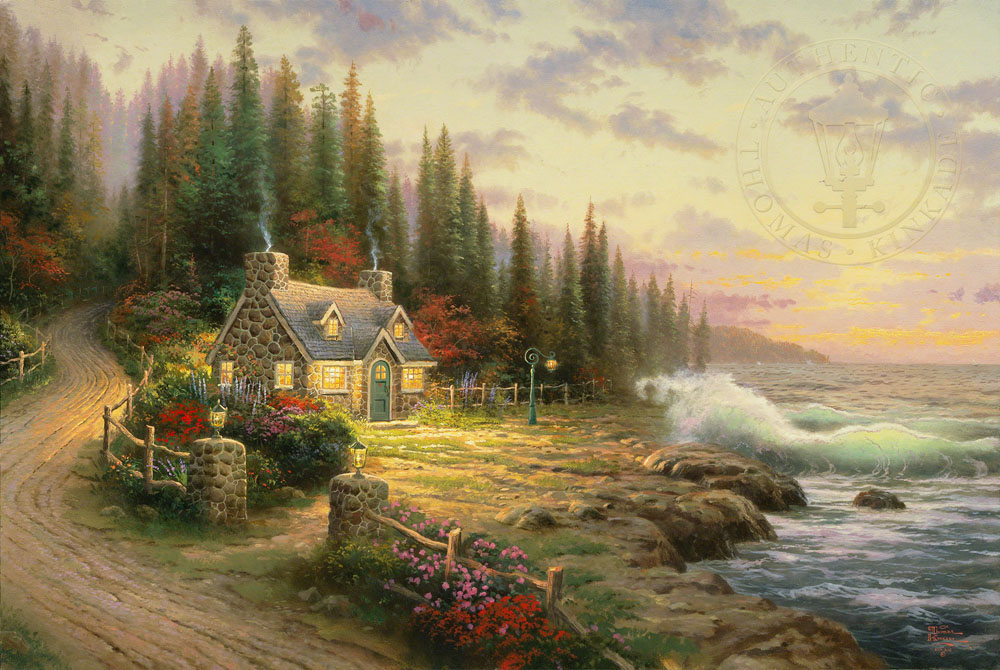 Immerse yourself in the beauty of nature with an exquisite piece from our collection of forest paintings in our galleries. We have breathtaking scenes featuring lush greenery, beautiful landscapes, towering trees, and more. Come into the gallery to browse all our forest paintings and enjoy these serene and tranquil offerings.
Bask In The Beauty Of Forest Scenes
Let us introduce you to the beauty of our outdoor-themed collection of forest paintings:
Evening In The Forest
Let this painting whisk you away to an idyllic hideaway tucked deep in the woods. Awash with amber light, this riverside escape beckons you.
The Forest Chapel
This hidden meadow bursting with vivid colors invites you to connect with nature and God.
Moonlight Cottage
Be enchanted by the peace and comfort that fills this forest painting of a cozy cottage bathed in nascent moonlight.
Pine Cove Cottage
This dramatic piece highlights the liminal place where the lush woodland meets rugged coastline.
Away From It All
Discover the peace of returning home to a moonlit cabin nestled at the foot of these majestic mountains.
The Mountain Chapel
This scene radiates with sacredness and grace. Both the chapel and the mountain face reach skyward, ascending towards the heaven and the divine.
Autumn Lane
The rural road will lead you to places unknown through the depths of the wilderness awash in mesmerizing autumn colors.
Forest Paintings
Give yourself, or a loved one year-long access to nature and the outdoors from our inspiring collection of forest paintings. Visit our galleries to discover for yourself which forest scene resonates most. Our art consultants are available to walk you through the unique significance of each painting, leading you into a deeper connection with Thomas Kinkade's art.