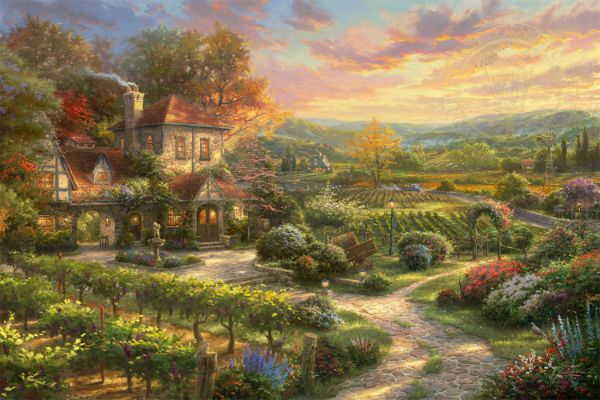 Would you like to add some flower paintings to your decor so that the beauty of a garden in full bloom will always surround you? Enjoy your garden all year with these unique botanical paintings from Thomas Kinkade Studios in California. Here are five stunning examples to provide focus and serenity to your home.
Find Old World Charm with Summer In Cobblestone Village
Recall the Best in Village Gardens With A Mother's Perfect Day
Wine Country Living Brings Your Favorite Vacation Spot Home
Contemplate Calm With Living Waters (Renaissance Edition)
Start Planning For Future Fun When Inspired By The Garden Party
1. Celebrate Warm Weather With Summer In Cobblestone Village
Recall your garden and its peak blooms in the dark days of winter when you savor the beauty of Summer in Cobblestone Village. From wisteria overrunning the living room window to riots of flowers flowing down to the brook's edge, it will remind you that Spring isn't so far away. Hang it by your kitchen window or over the mantelpiece.
2. Frame A Mother's Perfect Day To Complete Your Living Room
Sometimes botanical art looks beyond flower beds when celebrating the beauty of our planet's gardens. A Mother's Perfect Day highlights the rainbow of colors gracing autumn leaves while swans cavort in the quiet brook and late-season roses clamber over the fence.
3. Remember That Relaxing Vacation With Wine Country Living
Some gardens follow straight lines, while branches and vines are carefully trained to follow fencing and trellises. Wine Country Living is planning for a bountiful harvest while the house blends into the countryside as blossoms escape the confines of their beds.
4. Living Waters Is One Of Our Favorite Summer Paintings
This garden art represents the very best marriage between the curated peace found in a garden and the wild peaks of the mountains. Living Waters (Renaissance Edition) features gently aged pavers, lily pads, and a wealth of blossoms that are kissed by heavenly light at the of the day.
5. The Glowing Excitement Of The Garden Party
Look forward to the next cool Summer evening when your yard comes to a life filled with friends and the scent of flowers. The Garden Party highlights the wealth of excitement Victorian guests found in outdoor fêtes while the bounty of the gardeners' work was put on display. With this hanging near your desk, what party will you plan next July?
Build Your Bouquet With Thomas Kinkade Studios
Whether you are searching for special spring paintings to complete the decor in your sunroom or just want to add a splash of color to your kitchen, find a wide variety of botanical art when you visit one of our locations in Monterey, Carmel, or Placerville. Of course, you can always shop our complete Thomas Kinkade catalog online. Come on in or start clicking today.