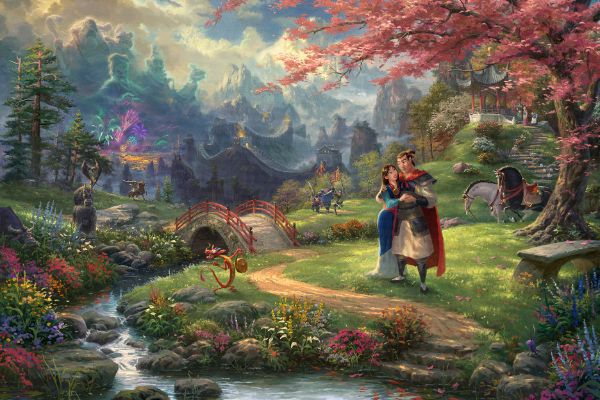 When you want to teach your grandkids to love fine art, paintings based on animated films play a special role. Disney art by Thomas Kinkade Studios in California enchants kids and makes them want more.
Instead of asking kids to analyze a piece of art based on its line, form, or content, these paintings reach kids through their favorite animated characters and stories. Those same elements can make collecting art fun for you, too, as these pieces often appeal to the young at heart.
1. Disney Geppetto's Pinocchio
For many of us, our exposure to Disney art was via classic animated movies like Pinocchio. This Pinocchio-inspired piece offers a new way to introduce Disney paintings (and art) to a new generation.
Because Disney Geppetto's Pinocchio features the classic art style the company is known for, it'd look just right as art for kids' rooms. However, because the painting appeals to the kid in all of us, it could also take the place of honor where adults hang out, too!
2. The Little Mermaid
If you're like many grandparents, you often have separate areas in your home for your grandkids, like special kid-themed guest rooms and, sometimes, even a kids' bathroom. If so, you'll want to look for pieces like The Little Mermaid.
It's great for a bathroom, not only because kids love Ariel and the gang but because water themes feature prominently in art for bathrooms, making a lovely piece for the walls even when your grandkids aren't around.
3. Disney The Lion King – Return To Pride Rock
Art for grandkids is more appreciated if it embraces themes kids already love. That's why paintings like Disney The Lion King – Return To Pride Rock work so well. If your grandkids can't stop singing or humming songs from this film, they'll be delighted by finding this in your living room.
While we feature The Lion King as a recommendation here, any animated film that your grandkids love, like Mulan or Alice's Adventures in Wonderland, serves as an entry into the world of art.
4. Disney – Mickey And Minnie Candy Cane Express
If there's any season where kid art reigns supreme, it's the Christmas season. As such, it's an excellent excuse for you as an adult to enjoy some Disney paintings in your home and appeal to your grandkids' sense of wonder. Few paintings capture that spirit better than Disney – Mickey and Minnie Candy Cane Express.
You and your grandkids will enjoy a sweet visual trip to the world of Christmas via Mouse and Friends. Best of all, when the holiday season is over, you can switch out the painting to a more "grown-up" painting like Paris, City of Love, from the Thomas Kinkade Vault.
Reach Out To Us Today To Find Art For Your Grandkids
When you feature Disney-themed artwork by Thomas Kinkade Studios in California in your home, you open up the world of fine art to your grandchildren. Because each piece features stories and characters that kids (and kids at heart) love, they look great in a grandkids' room, den, or bathroom.
Talk to one of our art consultants today to find the right piece for your favorite youngster.