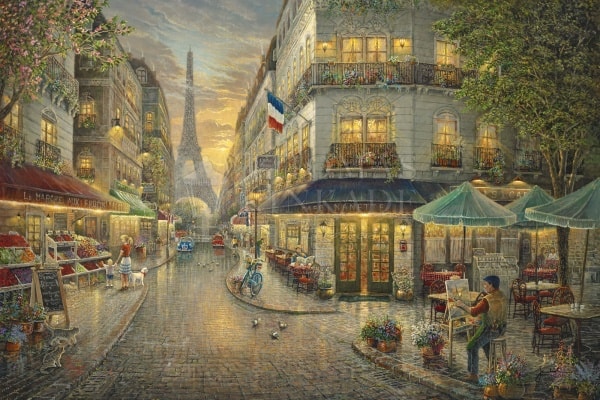 Calling all Paris lovers. If you're looking for a way to add a touch of European romance to your home, office, or dorm, make sure to check out the Eiffel Tower paintings from the California galleries of Thomas Kinkade. We display French cityscapes, quaint scenes capturing everyday life, and even your favorite Disney characters enjoying the City of Love.
Paris, City of Love
Paris Café
Paris, Eiffel Tower
The Aristocats
The Aristocats – Love Under the Moon
Mickey & Minnie In Paris
Romantic Sunset Paintings Of Paris
What's more romantic than a beautiful sunset? How about Eiffel Tower wall art that captures one of the world's most iconic landmarks at the setting of the sun? In the Paris, City of Love painting, the oranges, and reds against the early evening sky are reflected in the warm, glowing windows of a city not ready to call it a night.
Eiffel Tower Art & A French Café
For a more intimate scene, Paris Café captures a painter at work at a quiet café as a woman shops in colorful fresh fruit and vegetable stalls. This is another Eiffel Tower painting capturing France at the end of the day. In this version, however, you can share your view of this monument with fluffy cats, curious pigeons, and even a French poodle.
Rainy Day Artwork Near The River Seine
Paris, Eiffel Tower portrays a rainy scene with the Eiffel Tower as a decorative accent and makes for a wonderful conversation piece.
Rain glistens off a busy street next to the River Seine. A bridge is aglow with pinpricks of glittering light. Small ribbons of steam rise from the boats chugging by as bundled-up people go about the hustle and bustle of the day.
Disney Does The Eiffel Tower
If the France lover in your life is young or young at heart, you can deliver a smile with any of our Disney Limited Edition paintings featuring the Eiffel Tower. Make it a collection with both The Aristocats and The Aristocats – Love Under the Moon. This wall art takes you from day to night with the musical family of French felines.
Mickey & Minnie In Paris stars the famous mouse couple getting cozy under an umbrella against a backdrop of the Eiffel Tower. Some of Disney's most recognizable friends can be found in the painting. Can you spot Goofy, Pluto, Donald, and Daisy?
Shop Eiffel Tower Paintings In California
Visit your local California fine art gallery in Monterey, Placerville, or Carmel today. Our Thomas Kinkade Art Consultants look forward to showing you our variety of Eiffel Tower paintings up close. Don't forget to ask about proper hanging and lighting to get the most out of your Limited Edition art purchase.
We look forward to seeing you in our galleries.