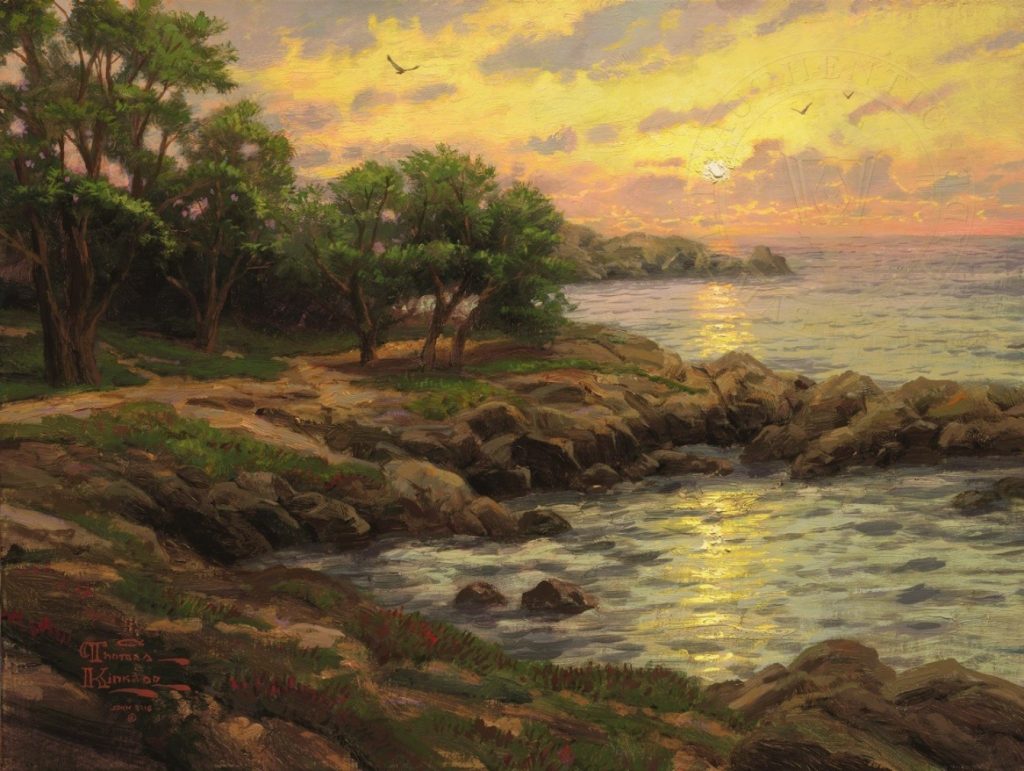 Thomas Kinkade Studios specializes in peaceful paintings that bring a sense of calm to the viewer. Whether you have a spa, yoga studio, meditation space, or therapist office, you'll find the artwork you're looking for in our California art galleries.
What Makes Our Paintings Peaceful?
Our paintings of idyllic landscapes, thriving gardens, and cozy cottages embody a distinctive serenity, acting as visual representations of perfect peace, a refuge for weary souls. This quiet tranquility that exudes from each of our pieces offers viewers not just art but a gateway into an alternative reality brimming with blissful serenity.
Peaceful Paintings For A Healing Space
Neutral decor and peaceful paintings are perfect for waiting rooms, consultation rooms, and spaces where people gather to heal. We invite you to explore some of our favorites or stop by and let one of our friendly Art Consultants know more about the decor you are looking for.
Visit The Mountains From Your Home Or Office
Art, at its core, resonates with the power of transporting us into a different place. You can traverse the majestic mountains without stepping a foot outside your room. In "Mountain Paradise", mountain panoramas replete with staggering peaks, verdant valleys, and pristine streams showcase the wondrous harmony of nature, bringing the great outdoors right into your indoor space.
Every brushstroke, every play of light and shadow, immerses you in magnificent natural landscapes that evoke the serenity and splendor of a mountain retreat.
Invite The Calm Of Nature Into Your Space
Immersing yourself in beautifully painted nature scenes can be very helpful when going outside isn't practical. In Morning Light, a quaint cobblestone path meanders through colorful flower gardens to a hidden peaceful hideaway. Studio In The Garden invites you into the perfect place for some peace and relaxation. The enchanting spring flowers and lovely shade trees outside this quiet studio invite you to sit among them and embrace a slower pace.
Serene Paintings To Meditate On
Are you looking for wall art for a meditation room? Consider getting a seaside painting, such as Serenity Cove. If you're looking for a palette of vibrant colors to liven up your yoga studio decor, a painting such as The Ballerina or King Of The Jungle may suit your needs.
Find Peaceful Paintings For Your Home Or Office
Whether you are an aspiring art collector or a longtime Thomas Kinkade admirer, our Art Consultants stand ready to share with you the craftsmanship and stories that make each painting special. Contact us at our Thomas Kinkade galleries in Carmel, Monterey, & Placerville. Stop by today and browse our collection in person or online.