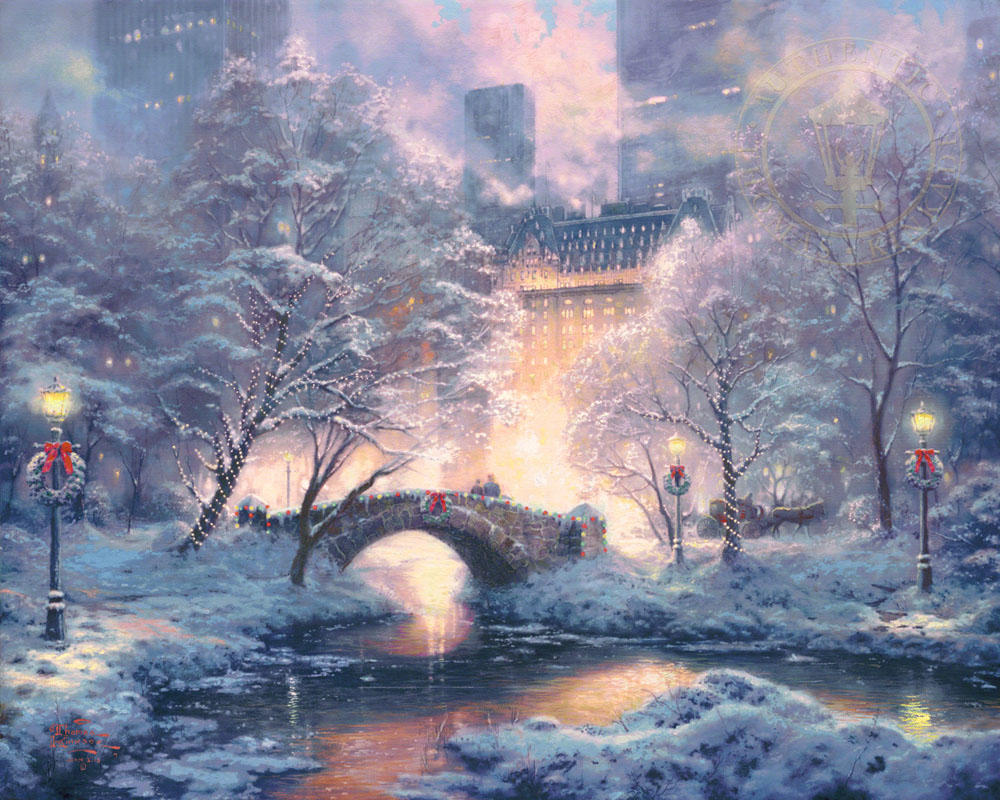 For those who love Christmas and all the joy it brings, there is no better place to choose Christmas paintings as treasured Christmas gifts than the Thomas Kinkade galleries in Carmel, Monterey & Placerville, CA. Thomas Kinkade's art is practically synonymous with Christmas spirit. Take a peek at some of our favorites and see why a Thomas Kinkade Christmas is like no other.
Timeless Christmas Scenes
From snowy little hamlets to the bustling holiday frenzy of Central Park, there is no Christmas art more enchanting than scenes from our galleries. These paintings make perfect gifts for people who love Christmas and want to enjoy it as much as possible. We all have a friend or relative who decorates as soon as possible and can't wait to hear Christmas music on the radio. We know they will love some of our favorites from the Thomas Kinkade Christmas collection that include:
Awake Your Sense Of Wonder
Christmas decorating is often the first activity we begin as we prepare our hearts and homes for the holiday season. We believe nothing can awaken your sense of wonder more than Christmas wall decor and canvas art from Thomas Kinkade. Immerse yourself in the charming scenes of carolers and sleigh rides, quaint country churches, and the Polar Express. Let the brilliant colors, warm light, and graceful lines fool your senses into believing you can hear the snow crunching beneath your feet, and the smell the sharp tang of pine in the air.
Christmas Home Decor – The Perfect Gift
Everyone wants to give a unique and memorable gift during the holidays. Surprise your loved ones with a beautiful and endearing piece of Christmas wall art. Young and old alike will be charmed by these cheerful and heartwarming holiday scenes. Thomas Kinkade Christmas art also makes a perfect hostess gift!
Find The Perfect Christmas Painting
Stop by the Thomas Kinkade galleries in Carmel, Monterey & Placerville, CA today to find the perfect Christmas painting. Our art consultants are ready to show you the most exquisite pieces we have to offer and help make your Christmas one to remember for many years.