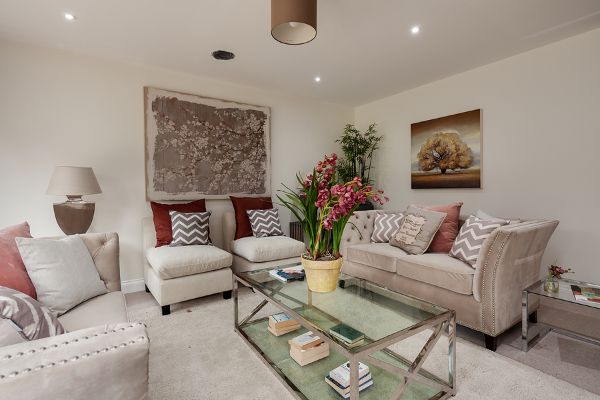 Can fine art really help you sell your home? Homebuyers can be just as turned off by empty spaces they can't imagine themselves in as cluttered ones that already feel like someone else's house.
If you're looking for an edge before listing your property, we invite you to consider the impact of fine art on real estate.
How Art Can Help You Sell Your Home
Real estate markets can be so competitive. What really sells one house over another in the same neighborhood is often some kind of connection to the buyer. It's not just the Jacuzzi tub, stainless steel appliances, and granite countertops, it's the value we see in those features. Displaying fine art can help you make more of those types of connections with your potential buyer.
Adds To A Home's Character
Brings A Space To Life
Adds Color & Interest
Adds A Feeling Of Value
Helps You Imagine Living There
Staging A House With Artwork
There's a reason we love touring model homes. Beautiful furniture, draperies, wall colors, carpeting, and appliances are all in place. You get that ideal mix of "homeyness" and newness that you can't wait to make your own.
Taking the time to stage your listed properties can mean the difference between a quick walk-through and an offer. Adding art to the mix makes your house even more original and unforgettable.
Make The Most Of The Space You Have
Ask For Help Before You Hang
Choose The Right Lights
Accent Attractive Areas
Mix Up Your Media — Paintings, Prints, Sculpture & Antiques
Buying A Home For Your Art
If you're thinking about ways to influence your home's sale with art displays, you might also be in the market for a new space yourself. More wall space, fewer windows, lighting — your wish list will depend on the pieces you hope to display. Make sure your real estate agent knows about your collection size and type.
It's not uncommon for your square footage to grow along with your art collecting hobby. After all, why buy art you don't have room to enjoy?
Shop Paintings To Accent Your California Home
Not sure where to start with home-enhancing fine art? Our friendly, knowledgeable Art Consultants can help you find Limited Edition paintings in themes and sizes suitable for your new house or home for sale. We can also advise you on how to display each piece most effectively. Stop by the California Thomas Kinkade galleries in Carmel, Monterey, and Placerville today.