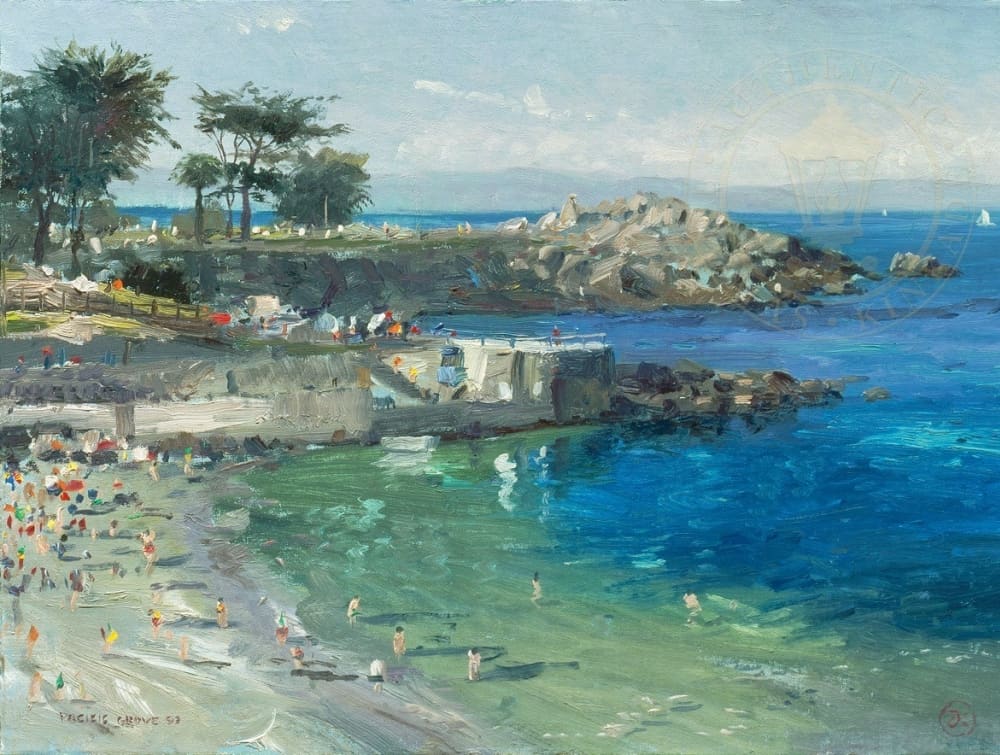 Enhance your favorite getaway with California beach house decor at our Thomas Kinkade California galleries in Carmel, Monterey, or Placerville. From seaside harbors to dramatic coves to tropical paradises, you'll bring home a slice of heaven with one of our tropical beach paintings.
Paintings For Your Beach House
A beach house is a place to gather together, make memories, and escape the hustle and bustle of everyday life. It's also a perfect place to enjoy seascape beach decor. Imagine dining with friends and family while watching the waves splash on the rocks in our beautiful beach painting, Point Lobos, Carmel.
Perhaps you love feeling the rush of the cool sea air as you sail in your beloved sailboat. Consider the painting, Catalina Marina, on display in your living or entertaining room. You can't help but feel like you're right on the seashore with our beach wall art in your home.
Down By The Sea
The California coastline is known for its warm sunny weather, stunning beauty, amazing beaches, and of course, surfing. Imagine seeing Morro Rock shrouded by the oranges and yellows of twilight right in your own beach house. Morro Bay at Sunset is a spectacular piece.
You might also enjoy other coastal paintings, such as:
When you purchase beach art from our gallery, you can enjoy the spectacular California seascape without even leaving your vacation home.
Give The Gift Of The Sea
Are you looking for a gift for the sea-lover in your life? Perhaps your grandfather has fond memories of finding sea life at La Jolla Cove. Maybe you want to remember a romantic getaway with a painting of Carmel for an upcoming anniversary.
Artwork from our Thomas Kinkade gallery is a perfect, unique gift idea that captures memories and lasts for generations.
Paintings Of California For Your Beach House
Surround yourself with stunning California seascapes from one of our Thomas Kinkade galleries In Carmel, Monterey, or Placerville. Purchase a piece of California art for your beach house today. Our art consultants are standing by to take your order or answer any questions you may have.