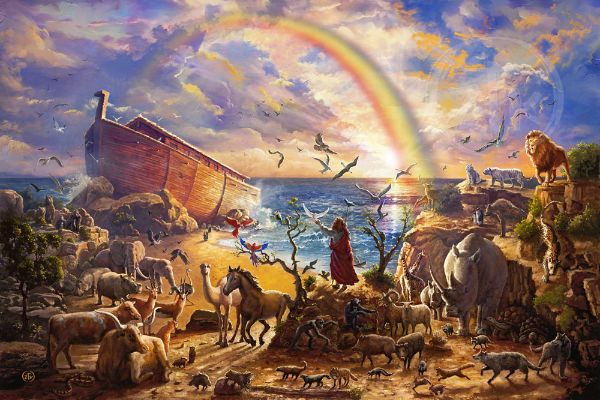 Faith-based art has long been how the faithful have communed with the Divine and strengthened their walks with God. The beauty of Bible paintings is that they capture many of the elements of our favorite Bible stories in one picture, allowing us to contemplate the whole message of the story in a single image.
Because of this, the meaning of this type of biblical art changes the more we spend time with it, making the addition of religious paintings in our homes an important part of our journey. Here are four of our favorite art pieces based on our favorite stories from the Bible.
1. Jonah
The story of Jonah is so dramatic and so meaningful that statements like "I'm in the belly of the whale" have become a shorthand that helps us express how deeply immersed we are in our problems. It's also a reference that has become so ingrained in our culture that no explanation is required when such sentiments are spoken.
Everyone knows it's from the story of Jonah and the whale. This piece of biblical art by Zac Kinkade beautifully captures the drama and majesty of this memorable tale.
2. Eternal Springtime
While some faith-based art deals with big scenes and lots of historical drama, another type of religious art concerns itself with those quiet moments with God that we all need occasionally.
Thomas Kinkade captured the essence of contemplative faith in this simple garden scene. A comfortable bench, surrounded by fragrant flowers, gives viewers a soft place to gaze while they think about their favorite Bible passages.
3. Noah's Ark
The story of Noah's Ark counts among the most memorable and comforting of all the stories in the bible. The beauty of God's plan of redemption, as portrayed by the rainbow and the ark on dry land, speaks to the Divine ability to deliver us from even the most difficult of trials.
4. Mount Arbel
This piece of faith-based art is a must-have for fans of Thomas Kinkade's plein air work. It features a rugged yet majestic look at the Sea of Galilee. With it, we can imagine how Christ must have felt as he walked those shores over 2,000 years ago. If you're looking for biblical art that's both inspiring and subtle, this piece fits the bill nicely.
Meaningful Biblical Art For Your Home
Religious art comes in many different shapes and forms, from the biblical paintings that tell dramatic stories of Jonah or Noah's Ark to the quieter, more contemplative pieces that invite us to listen to God's voice. Each type of faith-based art gives us a chance to put our faith on display in our homes as a reminder of how much God loves us.
If you'd like to learn more about our paintings of faith, talk to an art consultant in one of our galleries today.