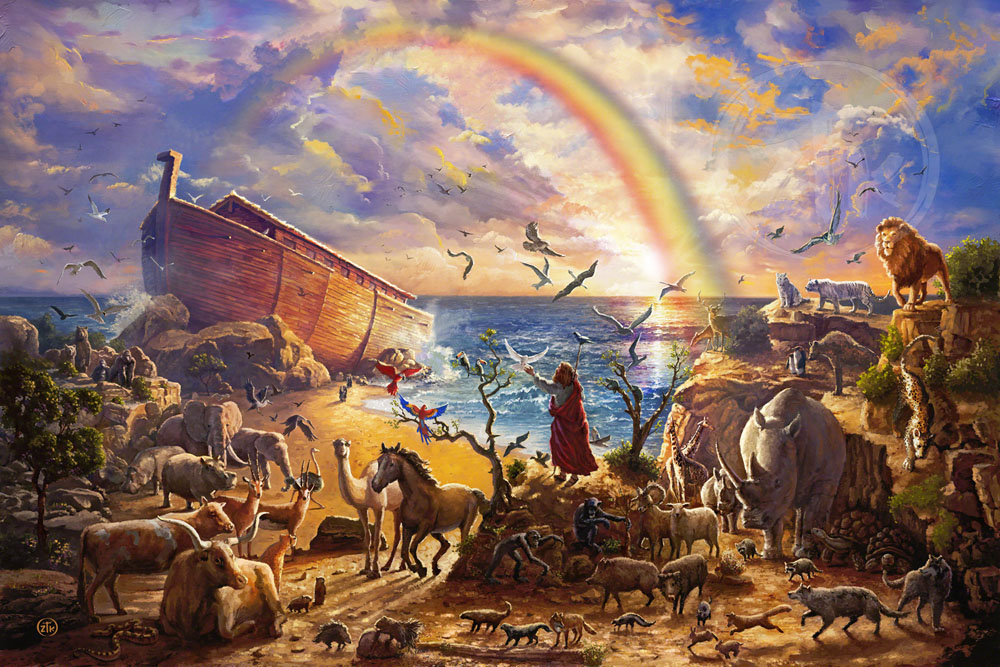 Invite curiosity and remembrance to home and sacred spaces with Bible story paintings from Thomas Kinkade Carmel, Monterey or Placerville. At our California galleries, we carry paintings of Bible stories that are sure to beautify and uplift any room. See these distinctive Biblical tales and settings brought to life like never before through fine art.
In The Beginning
What did the garden of Eden really look like? We think you'll enjoy our interpretation. Lush greenery, wild waterways, and even lions and elephants roam freely. A lurking snake cradles its tempting fruit just a few paces away from the unsuspecting couple. See it all in our Garden Of Eden painting on canvas.
Powerfully Captured Miracles
Moses parts the red sea in Exodus. Jonah falls to the mercy of a very big fish. Noah rejoices in the discovery of dry land with a caravan of wildlife. But this is just the beginning. The more time you spend with our paintings of Bible stories, the more you will see and have to think about.
Peaceful Reflections Of Faith
Supplement one of the most famous Bible stories of all time, The Nativity, with Biblical art featuring other scenes from the life of the Savior. The Garden of Gethsemane, the tomb, and depiction of the shepherd all bring feelings of serenity and hope to a room. These paintings on canvas add depth and reflection to any home decor.
Decor For Home Or Church
Our Bible story paintings can be appropriate for both home and church. The vibrant colors of some and subdued tones of others compliment a variety of styles. Invite new heroes into children's bedrooms or decorate Sunday School rooms with new, masterfully captured artwork.
Bring The Best Of The Bible Home
If you're looking for a fine art take on your favorite scenes from the Bible, we invite you to stop by and see our Bible story paintings today. Your California Thomas Kinkade gallery is as convenient as Carmel, Monterey or Placerville, making seeing these pieces in person easy. Let us help you find canvas art to excite or comfort your family or parishioners.