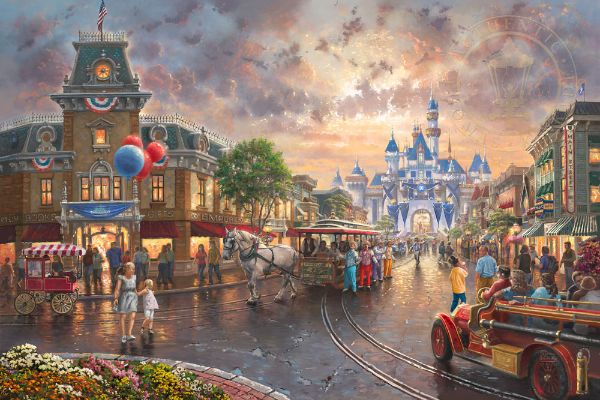 The best Thomas Kinkade Studios paintings for Disney adults capture the whimsy and the enchantment you felt growing up. They're filled with your favorite characters, scenes from films you've grown to love, and more than enough nostalgia to last you on into your golden years. These five paintings prove you're never too old to start a Disney fine art collection.
1. 90 Years Of Mickey
Most adults today became acquainted with Disney as kids at the movies. For them, the Thomas Kinkade Studios painting 90 Years Of Mickey offers an appropriate entry into art for Disney adults.
Mickey and Minnie sit front and center in an old-fashioned theater. On the big screen is the opening for Steamboat Willie, the first iteration of Disney fans' favorite mouse. You can practically taste the popcorn and hear the accolades that Mickey and Minnie get from all their friends. Acquiring this piece is a great way to start your Disney fine art collection.
2. Disney Lady And The Tramp Falling In Love
Not all Disney paintings include the mouse, but they contain plenty of love and magic. In this case, romance comes as a meeting between Lady and the Tramp under a moonlit sky. Off in the distance, a shooting star starts a shower of stars that this love story will surely spark.
The only thing missing is the plate of spaghetti, which, if you look off into the distance, is brought up the hill by the characters Tony and Joe. It's Disney's fine art at its sweetest and most romantic.
3. Disneyland® 60th Anniversary
Main Street Disney produces wonder and excitement for everyone seeing it for the first time. In this painting, the iconic castle in the background reminds you of the stories that have yet to be written and the movies yet to be made.
In the meantime, there's a whole park to get lost in, rides to take, and ice cream to be eaten, and as this painting shows Disney adults, you never get too old to visit the "Happiest Place on Earth."
4. Disney 100th Celebration
Some Disney paintings remind you that life's best celebrations are ephemeral. The best ones linger in our memories long after the celebration has ended. In this case, the ephemeral painting is the limited-edition piece Disney 100 Celebration.
Available only during 2023, it features two very grown-up-looking mice dressed in all their finery, waltzing the night away. Once the clock strikes midnight, the celebration of 100 years of the mouse ends.
5. Peter Pan Learning To Fly
The story of Peter Pan reminds us why many of us feel reluctant to leave childhood innocence. This folk-style art piece reminds us that it's possible to take the best elements of childhood into adulthood with us. It's a gift that Disney adults can give themselves.
Bring The Childlike Innocence Of Disney Into Your Adult Life
Who said love of Disney ends once you hit 18? It doesn't have to stop when you have the right paintings to add to your adult Disney art collection today. Reach out to one of our art consultants today to learn more about these and other paintings.