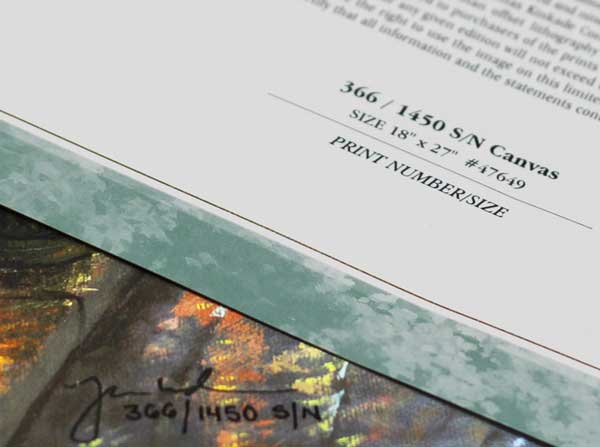 As a collector of Authentic Thomas Kinkade Artwork, you expect only the highest quality in artistic method and materials. At the Thomas Kinkade Company, we take great pride in sharing artistic pieces of art that were created with the Sharing of the Light vision of Thomas Kinkade. We offer only Authentic Thomas Kinkade Artwork. This means that every inspirational piece in your collection meets the following:

Hand-crafted in the United States.
Highest-quality materials were used.
Created with world-class workmanship.
Made-to-order.
Ethically sourced.

You can easily ensure that every painting in your collection is and remains genuine by purchasing exclusively through the Thomas Kinkade Company or a member of our authorized Thomas Kinkade Galleries, specialty partners, and retailers network.
The True Cost Of A Counterfeit
So, how much does counterfeiting cost and how does it affect you? Globally, the monetary losses involved are estimated to exceed $600 Billion. The human cost is far greater. Terrorism, organized crime, and child labor exploitation are all supported through counterfeiting. Even closer to home, buyers are being misled into thinking they are purchasing Authentic Thomas Kinkade Artwork when what they actually receive is poor quality, mass produced pieces lacking the fine details the Thomas Kinkade Brand is known and loved for.
Monitoring Counterfeiters
Stores, galleries, websites, flea markets, and other types of vendors can all be sources of counterfeit activity. At The Thomas Kinkade Company, we actively monitor vendors to stop the sale of imitation Thomas Kinkade images and prosecute counterfeiters. We work with authorities at the local, state, and federal levels. We also work with U.S. and foreign customs officials. You can help protect yourself and other from those involved in these misleading practices by reporting counterfeiters at this link.
The Thomas Kinkade Company
The only publisher of both Authentic Thomas Kinkade Limited Edition and Authentic Open Edition wall art is The Thomas Kinkade Company. We license some authorized partners to use Thomas Kinkade images on approved gift items, stationery, and specialty products. The Thomas Kinkade company does provide artwork authentication services. To be guaranteed that your Thomas Kinkade Artwork is authentic, simply purchase Thomas Kinkade art from any of the following:
A Certificate Of Authenticity
To ensure the integrity and authenticity of your artwork, a Certificate of Authenticity (COA) is provided with Authentic Thomas Kinkade Limited Edition and Open Edition artwork. Limited Edition Prints are accompanied by a Certificate of Authenticity that is numbered. Both Limited Edition pieces and Open edition pieces also bear other marks of authenticity and distinction. These can be found for reference on our Limited Editions page for Thomas Kinkade Limited Edition Artwork and on the item specifications in The Thomas Kinkade Company online shop for Thomas Kinkade Open Editions. Although we do not track ownership of Limited Editions, we protect the integrity of the Limited Edition program by maintaining a policy not to replace Certificates of Authenticity. We urge you to safeguard the COA accompanying your artwork immediately upon receipt.
Licensed Thomas Kinkade Collectibles
Your Thomas Kinkade collection may extend beyond the beautifully framed pieces on your walls. We have licensed only the highest quality manufacturers, publishers, and specialty gift companies willing to stand by established standards of Quality Assurance and Authenticity. This partnership makes it possible for the art of Thomas Kinkade to embellish a wide variety of products for you to enjoy or buy as gifts for the enjoyment of others. To ensure that these items are authentic, we have provided you with a Licensed Partners page.