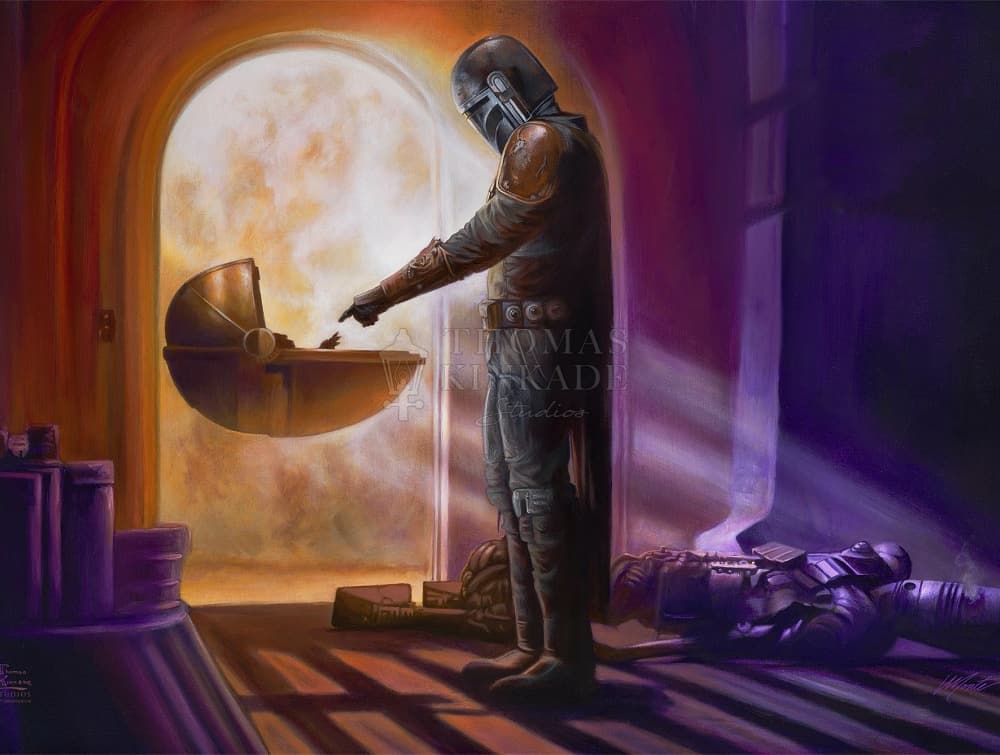 Art Notes
It was a fierce battle to reach his goal, but with the help of an unlikely ally, the Mandalorian has finally located the bounty. To his utter surprise, however, this bounty is a small child of unknown species and his temporary ally has now become an enemy. The mercenary now has to make the first in a series of decisions that will chart the path of the rest of his life. In a choice between life and death, the hardened bounty hunter reaches out his hand and chooses life.
Key Points
The Mandalorian™ – Turning Point artwork is from the first chapter of the Star Wars™ live-action series, The Mandalorian.
 IG-11™, an IG-series Assassin Droid, was introduced to audiences during Star Wars: The Empire Strikes Back™ with IG-88™.
The Child is 50 years old but appears to be an infant with incredible powers.
The Mandalorian's rifle is a tuning-fork-shaped weapon known as an Amban phase-pulse blaster.
About The Series
The Mandalorian™ Collection presented by the Thomas Kinkade Studios is a series of Limited Edition Art that captures iconic scenes from each chapter of the Disney+ Star Wars™ live-action series. Each work of art brings beloved characters and stories to life with the luminous techniques the artists of the Thomas Kinkade Studios are known for. This historic collection marks the first set of paintings published by the Thomas Kinkade Studios to include the artist's signature.
About The Artist – Monte Moore
Monte Moore has been a professional illustrator for nearly 30 years for dozens of top-tier companies and properties having worked on book covers, video games, movie posters, card games, and comic books. Along with having 8 books published exclusively featuring his commercial artwork in the pop- culture industries, Monte has won the World Fantasy Art show twice for Best Black and White work and has been a guest of honor artist at conventions and art shows around the world including Italy, Scotland, Belgium and Germany and 2001 Guest of Honor at the San Diego Comic-Con International.
Copyright: Art Brand Studios, LLC. © & TM Lucasfilm Ltd., All rights reserved.
Title The Mandalorian™ – Turning Point
Published October 2020
Collection The Mandalorian™ Collection