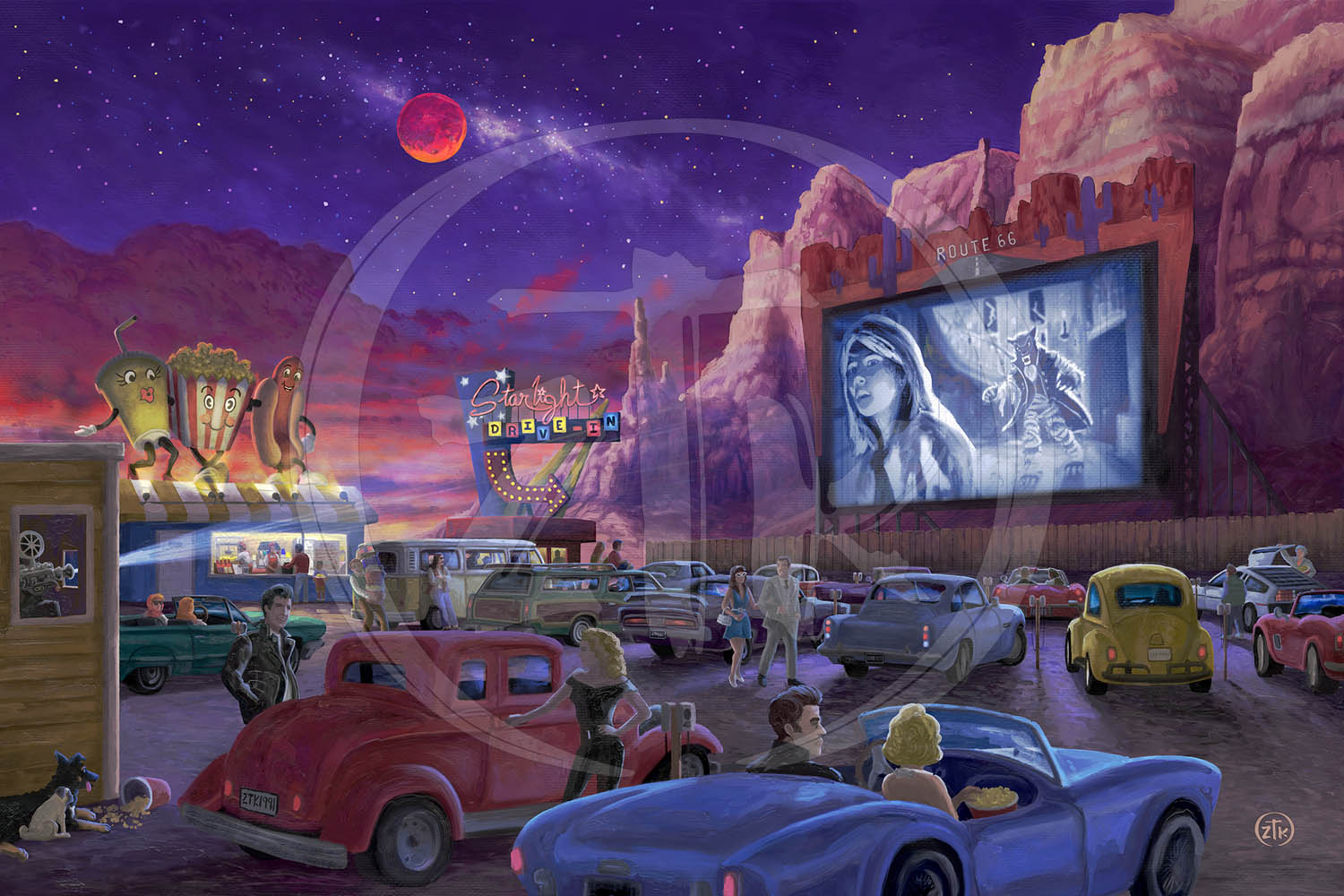 Gallery Director Notes
With this release I chose to do something special - based on input from my Instagram and Facebook fans, I created four variations of this painting. Each version features a different movie theme on the big screen that collectors can choose from, including science fiction, horror, western, and romance. Each piece has its own title and set of editions, and I've kept the edition sizes small and collectible.
Art Notes
Welcome back to America's Main Street and one of this country's great motoring traditions! As I continue to get my kicks on Route 66, I wanted to explore the fun and nostalgia for the drive-in movie. My father always tells stories of the Se Rancho drive-in where he and my Uncle Thom enjoyed countless family evenings at the theater playground and eating snow cones from the snack stand. In their teen years, they would hide in the trunks of friends' cars to sneak into the movie or borrow their mother's truck to go on dates with their girlfriends. In my imagination, the starlight is filled with automobiles and film characters that graced Hollywood's silver screen. Look closely and you may see a British superspy and his signature sports car in addition to a very amorous beetle. Two female outlaws sit in their signature ride enjoying the film, while a musical couple stand by their Greased Lightning™ on a hot summer's night. There is a station wagon ready for a vacation and even a stainless steel car designed to get you to the future and back in film. Whether you are a fan of science fiction, horror, westerns or romance, I hope you enjoy your night at the movies. As always, thank you for sharing my adventure in art.
~Zachary Thomas Kinkade
Copyright: © Zachary Thomas Kinkade © 2019 Art Brand Studios, LLC. All rights reserved.
Title Screams At The Drive-In
Painted 2019
Published 2019
Collection Movie Night On Route 66