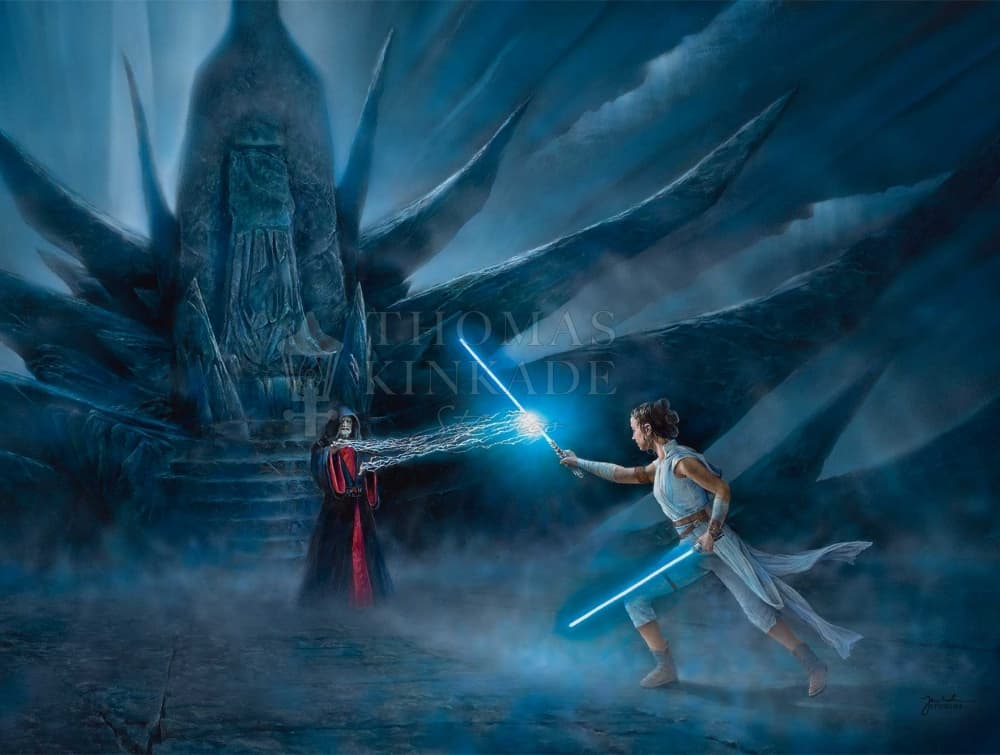 Art Notes
The galaxy has heard a very mysterious broadcast. It's a threat of revenge, and it seems to be the voice of the late Emperor Palpatine™.
The Resistance™ is now taking the war back to the First Order™. Rey has landed Luke Skywalker's™ X-wing on the planet Exegol™. It is there that she finds Palpatine who reveals that he is her grandfather. Channeling the Force and Jedi before her, Rey draws her Lightsaber and confronts the Emperor.
Thomas Kinkade Studios is pleased to present Rey's™ Awakening.
Key Note's
Rey's Awakening is the sixth Limited Edition release in the Star Wars™ Collection by Thomas Kinkade Studios, and the third Limited Edition Art featuring Rey. The first two are The Duel: Rey™ vs. Ren™ and Rey of Hope.
Rey's Awakening portrays a pivotal scene in Star Wars: The Rise of Skywalker™ which answers the important question of Rey's lineage and the source of her power.
As Rey and Emperor Palpatine™ face off, the Sith™ Eternal cult looks on.
Emperor Palpatine's throne in Star Wars: The Rise of Skywalker was first conceived in 1981 by artist Ralph McQuarrie as an early concept drawing for Star Wars: Return of the Jedi.
---
Edition Features:
Here is the E/E Edition sketch for Rey's Awakening.
• Textured Brushstroke Process
• Additional Highlighting
• Small Edition Size
• Authorized Signature In Silver
• Unique, Hand-Drawn Sketch On The Back Of The Canvas
Copyright: Art Brand Studios, LLC. © & ™ Lucasfilm Ltd., All rights reserved.
Title Rey's™ Awakening
Published January 2021
Collection Star Wars™ Collection