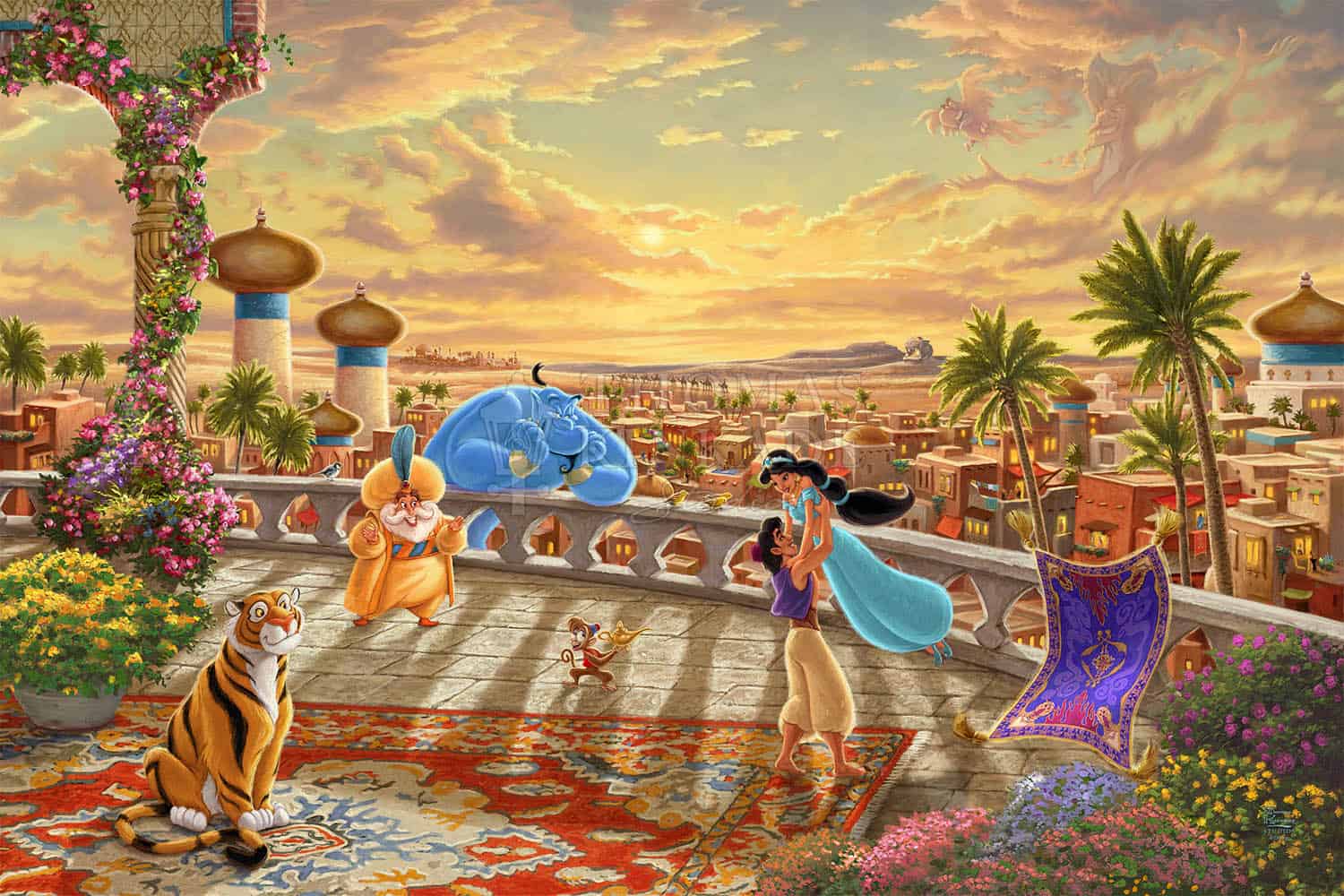 Art Notes
A floral fragrance fills the warm desert air and the soft wind blows, creating a beautiful melodic harmony. A tune floats on the wind as love blossoms between Disney's Aladdin and Princess Jasmine. The setting sun casts a romantic glow over the kingdom of Agrabah as Aladdin twirls Jasmine around the palace balcony. Jasmine's father, The Sultan, gazes fondly and with the pleasure of watching his daughter find everlasting love. Genie, Abu, and the Magic Carpet are happy to watch the young love develop. Protective Rajah appears to ponder the pair, and only wants happiness for his Princess Jasmine.
Thomas Kinkade Studios is proud to present Jasmine Dancing in the Desert Sunset. An inspired work of art depicting the magic moments of finding true love.
Key Points
In the background, the kingdom of Agrabah is illuminated by the setting sun.
Can you find the genie's lamp?
The ever-protective Rajah gazes on as Aladdin and Jasmine embrace.
Did you know Disney's "Aladdin" is based on the folktale "Aladdin, or the Wonderful Lamp" from the collection "One Thousand and One Nights?"
The mischievous Abu is nearby as Aladdin and Jasmine celebrate their love.
Copyright: © Disney © 2020 Art Brand Studios, LLC. © Thomas Kinkade Studios, All rights reserved.
Title Jasmine – Dancing In The Desert Sunset
Published March 2020
Classification Thomas Kinkade Studios
Collection Disney Dreams, Dancing In The Light