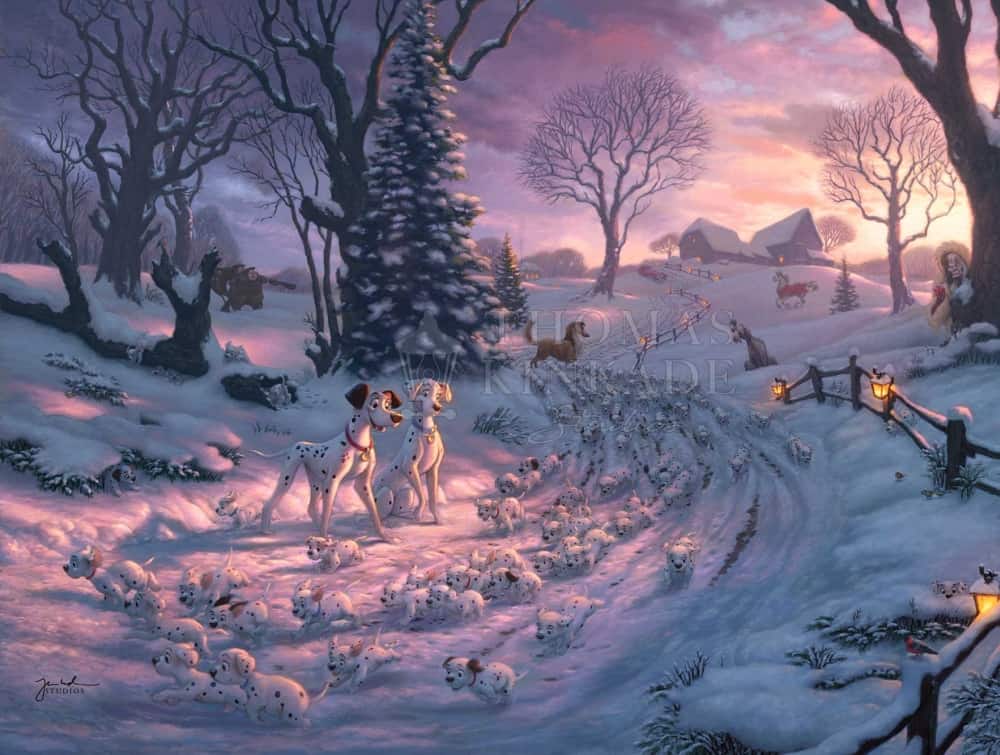 Art Notes
"Life is too short to have just one dog." – unknown
Love is on the run. Pongo and Perdita's puppies have been freed and are on their way back to London with the help of some incredible friends. Collie and Colonel are ready to assist the puppies on their journey to freedom. Jasper and Horace have noticed Cruella de Vil stealthily skulking behind a nearby tree, plotting a way to recapture the puppies. In Disney – 101 Dalmatians on the Run, Thomas Kinkade Studios captures the love of Pongo and Perdita's family and invites all to root for the puppies on their adventure.
Key Points
Disney – 101 Dalmatians on the Run is the second painting by Thomas Kinkade Studios that portrays Pongo, Perdita, and their puppies' adventures. The first masterwork was set in the sunny London suburbs and was titled Disney 101 Dalmatians.
All 99 puppies were painted in this artwork! (Do you see the playful puppy hiding behind the snowbank watching a bird?)
Can you find Pongo and Perdita's initials carved into a tree?
Cruella de Vil's car can be seen in the background. Animators of the 1961 classic film One Hundred and One Dalmatians used an innovative method to animate her car in motion, using a cardboard model, springs, string, and a sand-like substance to achieve the effect of driving through the snow. This technique was used in future Disney films, including The Aristocats.
Estate Edition Sketch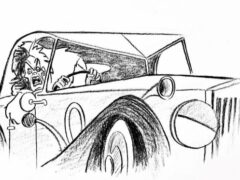 Here is the E/E sketch for Disney – 101 Dalmatians on the Run.
Edition Features
Textured Brushstroke Process
Additional Highlighting
Small Edition Size
Authorized Signature In Silver
Unique Hand-Drawn Sketch On The Back Of The Canvas
Copyright: © Disney © Art Brand Studios, LLC. © Thomas Kinkade Studios, All rights reserved.
Title Disney – 101 Dalmatians on the Run
Published May 2021