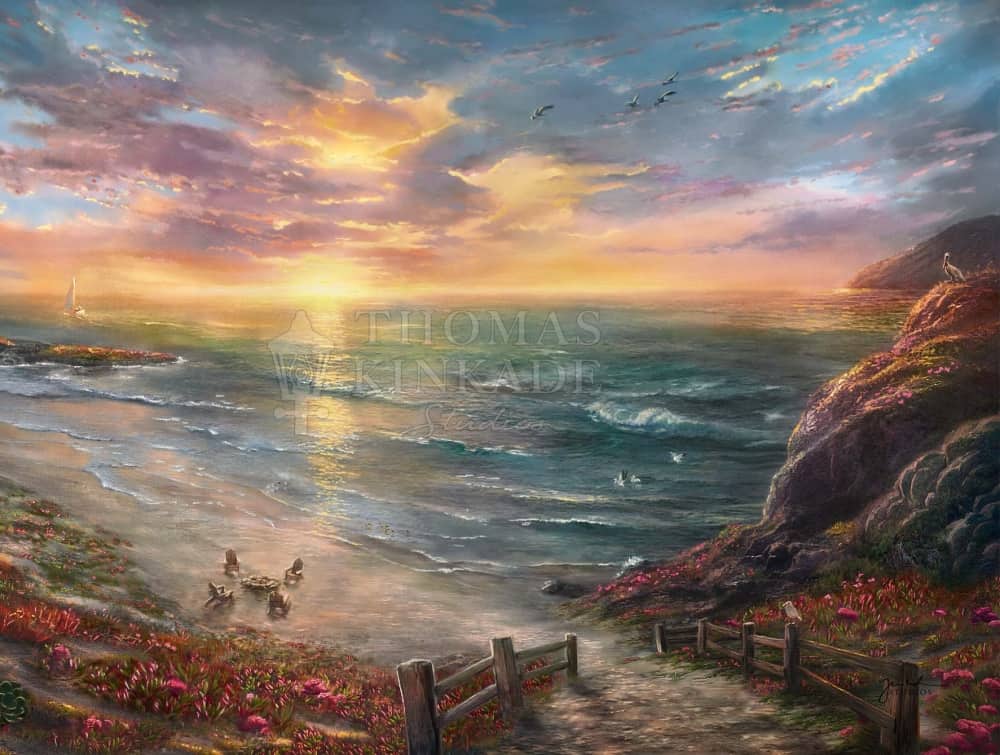 Art Notes
The gentle sound of ocean waves slowly lapping the shore is guaranteed to ease any tension one may feel when they gather beachside with family and friends. The sight of the seagulls as they dive for fish in the surf and the sandpipers scampering in the shallow water is one more way to feel yourself relax.
Thomas Kinkade Studios® presents Beachside Gathering where on a quiet beach sits a set of Adirondack chairs carefully placed around a fire pit waiting for just such a group of family and friends to arrive.
Key Points
Beachside Gathering captures a beautiful sunset painted in a stunning Kinkadian color pallet.
Seagulls can be seen flying overhead and sandpipers play in the shallow water, while a pelican perches high on the rocks.
Beautiful flora, including seaside succulents, are painted along the coastal strand.
In the distance a sailboat can be seen, as a tribute to Thomas Kinkade, who often painted them as a symbol of a traveler making their way home parallel to a person navigating the challenges of life.
Copyright: Art Brand Studios, LLC. © The Thomas Kinkade Estate, All rights reserved.
Title Beachside Gathering
Published May 2023