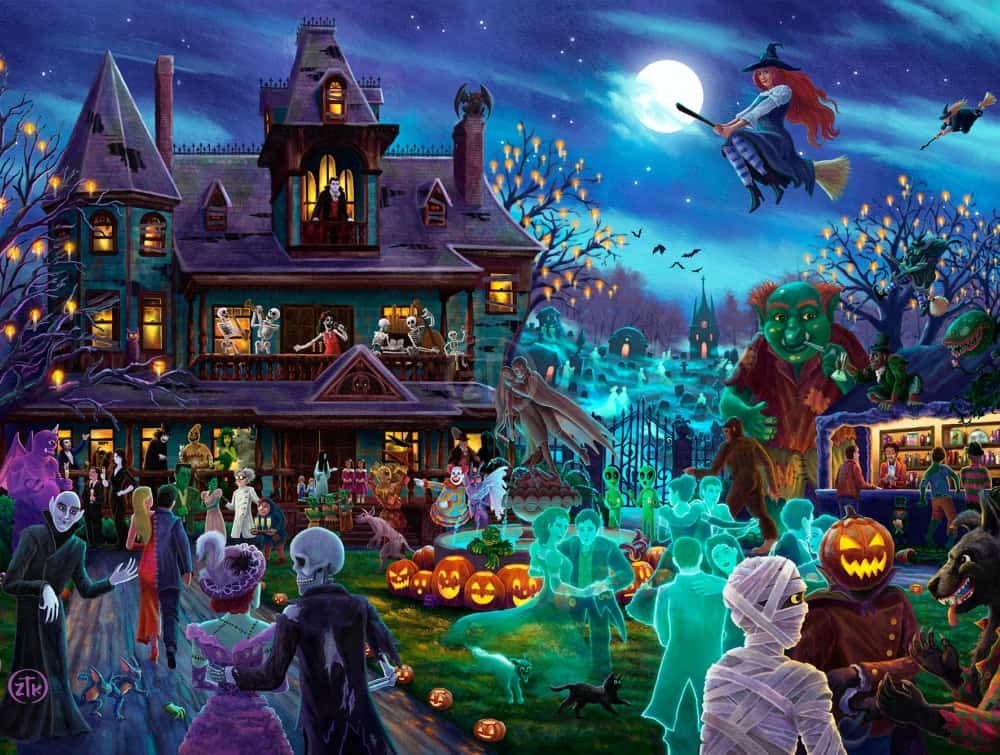 Art Notes
For all of you who love ghouls and ghosts and things that go bump in the night, I "submit for your approval" my latest painting, A Ghoulish Gathering. I hope you will be "bewitched" by the composition. It is a celebration of the simple fun to be had by being scared.
Homage to modern denizens of today's horror films fills the scene while classic creatures from our long-standing nightmares provide their own familiar chills. A killer from our dreams enjoys the evening, and everyone's favorite ax murderer has a drink while slowly sinking into a madness inspired by the grim nature of the hotel he caretakes. The Mummy talks to friends, and Dracula lords over all those who have attended the party.
There are over 40 ghastly tributes for you to find in this creepy composition that will ensure you will have as much fun exploring the piece as I had creating it. Even Poe, my brother's very sweet and slightly addled dog, makes a ghostly appearance chasing a black cat. Join me at A Ghoulish Gathering, and, as always, thank you for sharing my adventures in art.
Key Points
A Ghoulish Gathering is the first release in Zac Kinkade's Nightmares in Haunted Hallow Collection, a series that features favorite supernatural stories and characters.
Among the 40 characters and haunted tributes Zac included in this painting, he featured a very special friendly one, Fresno the Skeleton, from the children's book he illustrated with author Ashley Wellman – The Girl Who Dances with Skeletons: My Friend Fresno. Can you find him?
Zac included many classic characters like The Mummy, Dracula, and Frankenstein and his "Plus 1" in A Ghoulish Gathering, along with other fan favorites like a certain creepy clown and a singing Phantom.
In addition to film icons, Zac also painted some mystical figures in A Ghoulish Gathering, like the Chupacabra – a folkloric creature whose story originated in Puerto Rico and has become a popular urban legend. Can you find this mythical character?
The Kinkade family pug, Poe, makes regular appearances in many of Zac's paintings. Do you see him chasing a cat in A Ghoulish Gathering?
Copyright: © 2021 Art Brand Studios, LLC. All rights reserved.
Title A Ghoulish Gathering
Published October 2021
Collection Nightmares in Haunted Hallow