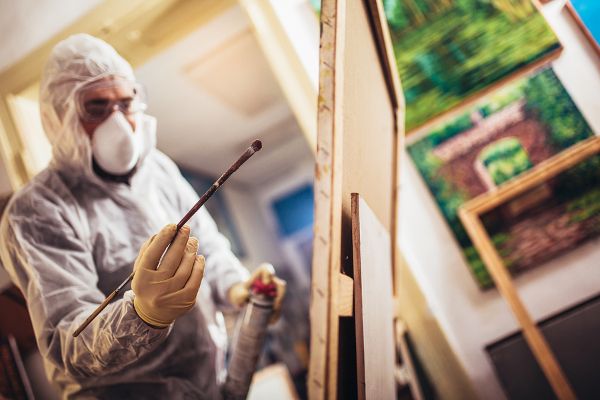 Taking care of your art collection is an ongoing task. It's not enough to acquire and display the best pieces. You also have to maintain each painting, drawing, photograph, or sculpture. The good news is you don't have to wait for accidents or damage to happen to take advantage of art restoration services.
What Is Art Restoration?
Art conservation and restoration involve not only repairing damage and regular wear and tear but preventing it as well. Professional restorers study art history, the science behind popular types of materials, and the technique behind different application methods.
Like many types of repair, restoring artwork means getting that piece as close to its original condition as possible.
What Types Of Accidents Affect Fine Art?
A chipped vase, broken sculpture, torn photograph, or warped and stained painting can happen more easily than you realize. Incorrect display or storage practices can make these delicate pieces more or less damage-prone.
Additionally, natural disasters and transportation accidents can and do happen.
Fire Damage
Mold, Mildew & Water Damage
Pest Damage
Fading & Deterioration From UV Rays
Common Art Restoration Services
Your art restoration company will be able to layout available services for each piece of artwork you need to repair. For instance, they may specialize in paintings, but not antique furniture or tapestry. Your regular art consultant, local gallery, or museum can often recommend available services in your area.
Cleaning Water Damage & Stains
Fixing Tears In Paper & Canvas
Fixing Weakened Or Sagging Canvas
Freshening Faded Paint
Replacing Chipped Or Peeling Paint
Fixing Broken Sculpture & Pottery
How Much Does Art Restoration Cost?
Art restoration costs usually depend on the types of techniques, materials, and time it will take to repair your artwork. Your price will also vary because collectible fine artwork can vary in size, kind, and age. Keeping up with your art insurance and knowing the coverage types can significantly decrease your costs.
The same company that offers art repairs can typically regularly maintain your collection, reducing your need for big repairs down the line.
Choosing A Conservation Company
Choosing conservation and repair professionals with a reliable reputation is essential. Even the best restoration services can decrease the value of a piece. We all want to know our favorite acquisitions are in good hands and will return to us in the best condition possible.
You will also want to ensure each repair is performed with longevity in mind. Quick, cheap fixes will only have you shopping for additional restoration services sooner than later.
Scheduling Art Restoration
Have information about your painting or other artwork on hand.
Decide whether your restorer will travel to you or whether you will have to transport the piece.
Ask for a condition report on the damage, required treatments, and estimate of costs.
If more extensive repairs or several treatments are necessary, you may also ask for a time estimate.
Add High-Quality Artwork To Your Collection
We offer Limited Edition paintings beautifully crafted to last for generations at the Thomas Kinkade galleries in Carmel, Monterey, and Placerville, California. Our friendly, knowledgeable Art Consultants can advise you on the best way to display, light, and care for your purchases. Stop by and explore our collections today.