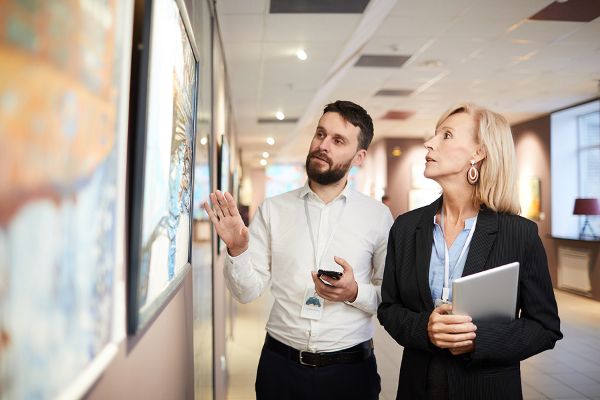 Sourcing and purchasing high-quality artwork that works in your space and fits the style you're going for can be a challenge. Where can you find new or contemporary art for sale? How do you navigate the expansive and complicated art market?
Fortunately, when you shop with Thomas Kinkade Galleries in Placerville, Monterey, or Carmel, you don't have to figure things out alone. Our Art Consultants look forward to helping you start or add to your private collection.
What Does An Art Consultant Do?
An Art Consultant can help you learn more about the industry, the stories behind different types of artwork, and the buying process overall. You can get advice about drawings, photography, paintings, and sculpture that will accent your space while staying on brand, evoking specific emotions, or sticking to a specific style.
Collectors also get advice on preserving, displaying, and lighting artwork purchases without feeling lost or intimidated.
Why Hire Thomas Kinkade Galleries Art Consultants?
Find Artwork That Fits Your Purpose Or Style
See Limited Edition Paintings In Your Home Pre-Purchase
Get Convenient Online Advice
Get The Most Out Of Our Special Services
Save Money – Find Paintings That Fit
If you've never consulted with an artwork acquisition advisor, you may be concerned about the cost or unsure about how necessary a consultation really is. Whether it's by adding depth to your pieces with a little more art history or by guiding you to the best art dealers in your area – often, these art world professionals can actually save you time and money in the long run.
You get to leverage years of accumulated industry experience and in-depth information about your painting purchase. So, you end up with a painting collection you won't regret later.
Source Rare Or Sold Out Paintings For Sale
There's nothing like the frustration of being unable to complete your painting collection because the piece you're missing is rare or sold out. Our Art Consultants can help you find Thomas Kinkade painting for sale that you never thought you'd get access to.
What Will Your Painting Look Like At Home?
Have you ever been shopping online or in a California gallery and wondered if the painting you are interested in would look as good as you imagine in your unique space? At Thomas Kinkade galleries, our Art Consulting professionals offer free, in-home services as well. We will bring the artwork to you.
Convenient Online Art Consultations
Speaking of at-home convenience, imagine a video conference about paintings of California or Thomas Kinkade landscapes from the comfort of your home or office. Our Art Consultants can guide you through a one-on-one virtual appointment. Imagine getting the advice you want without the long commute or wait times.
Get The Most Out Of Special Gallery Services
Art Consultants can also help you unlock special services available at your local galleries. You can't take advantage of benefits you know nothing about. Ask your Thomas Kinkade Consultant about the services available to private collectors in your area.
In-Home Showings
Custom Framing, Lighting & Display Advice
Exclusive Access To Rare Paintings
Special Financing Opportunities
Annual Value Statements For Insurance Purposes
Who Uses Art Consultants?
Now that you see all the ways you can put these professionals to work for you, it'll be no surprise to find out that many of the interior designers and collectors you admire use consultants. From model homes to corporate offices and galleries to at-home collectors – buying the best pieces means being in the know about the services available to you.
Galleries
Businesses
Housing Developers
Corporate Collections
Art Buyers & Collectors
Interior Designers
Find A California Thomas Kinkade Art Consultant
Find Thomas Kinkade Limited Editions for sale and knowledgeable Art Consultants to guide you through your purchase at our California galleries in Carmel, Placerville, and Monterey. Give us a call, schedule an online consultation, or stop by and see us today.