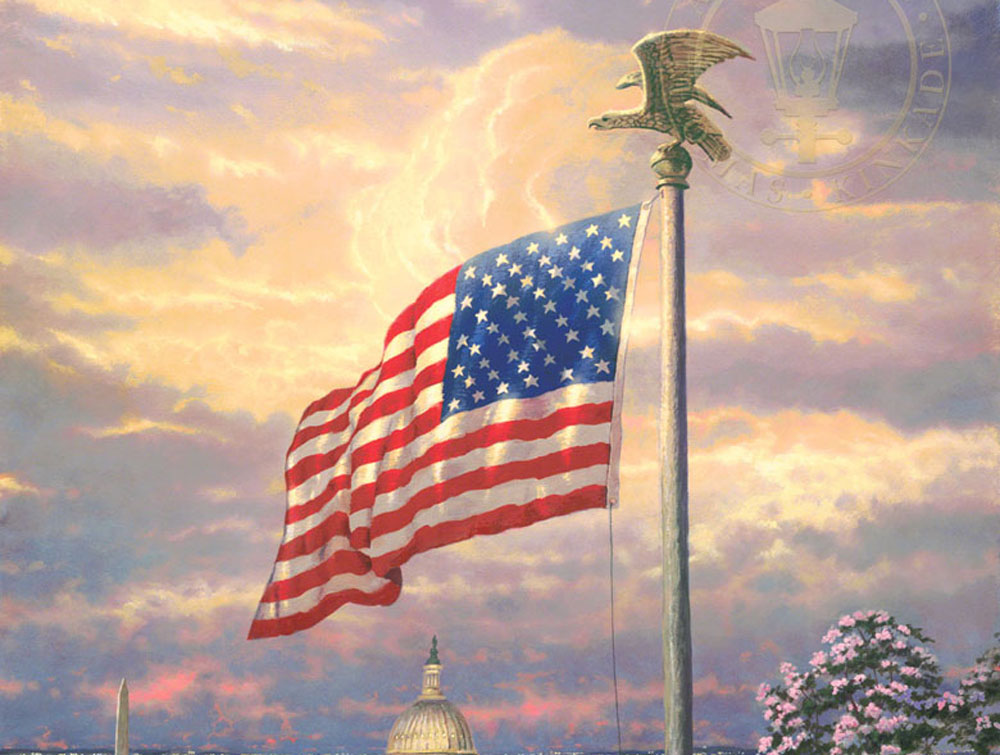 In our galleries, we take pride in offering you beautiful American flag paintings by Thomas Kinkade. Patriotic art has always held a special place in the American home. These canvas treasures are more than just wall art. They signify our unity, our strength, and our freedom as a country.
Fine Art Symbols Of Freedom
American flags are a symbol of reverence, celebration, and pride. Whether they are flown neatly in a row on a busy city street or stretched across a sports stadium during the national anthem, they bring comfort.
Let some of the following Thomas Kinkade American flag paintings bring a patriotic touch to your space:
American Flag Art By Thomas Kinkade
Thomas Kinkade doesn't just bring you a painting of the flag, he captures the meaning and feeling behind the importance of this national symbol time and time again. In Heading Home, our mysterious soldier could be any of those who have fought or are still fighting for the freedoms we enjoy every day. Is he heading home or heading to the ultimate home above, his battle over and the peace he fought so selflessly for finally at hand?
Celebrate With A Limited Edition
Are you looking for the perfect way to honor the veteran in your life or the new recruit just graduating from basic training? American flag paintings are the ideal decor for Veteran's Day, Memorial Day or for your Fourth of July celebrations. Thank your favorite soldier, welcome home a brave warrior, or bring the perfect housewarming gift to the military family next door. Our Limited Edition paintings are a gift that will be cherished for generations.
Find American Flag Paintings
Whether you are putting together a space that welcomes the memories of your own military service or expressing your pride in this great nation, we invite you to stop by and choose your new favorite American flag painting. We are your source for patriotic and American flag art that makes an impression. We look forward to helping you remember and celebrate with these precious paintings.