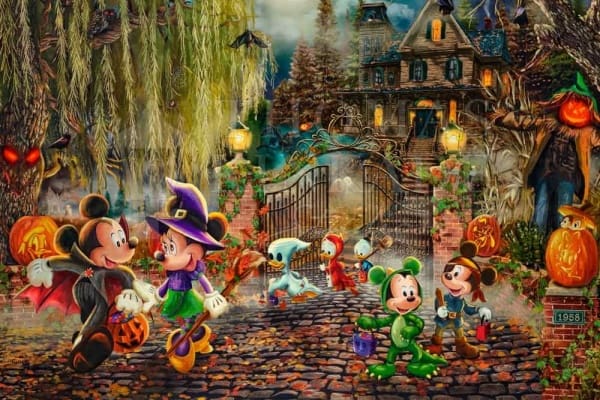 It's time to decorate your home for autumn, but where do you start? How can you stand out from the crowd this year? When you're looking for fall decor ideas, don't forget about your guest room, family spaces, and the entryway your trick-or-treaters will get to see.
Paintings can set the mood for a season of fun indoors, just as easily as a few jack-o-lanterns and a scarecrow can outdoors.
Our Fall Decorating Ideas
Home Decor For Fall Family Fun
Pumpkin spice, sweater weather, and the chance to dress up – who doesn't love fall? This is especially true for children. Make autumn even more fun with family-friendly Halloween decor. With more treats than tricks, our paintings Disney Mickey and Minnie Halloween Fun and The Pumpkin Festival make excellent seasonal editions to game rooms, living rooms, and kids' rooms.
New York Art All Dressed Up For Autumn
Thanksgiving In New York is a great conversation starter for guests visiting on Turkey Day. If iconic New York accented by the reds, yellows, and oranges of fall foliage are more your style, Central Park in the Fall and Autumn in New York both beautifully fit the bill. Romantic horse-drawn carriages clop on by, and streetlamps shine before a beautiful backdrop of NYC.
Decoration Celebrating Harvest Season
Dress up the kitchen and dining areas with something more lasting than turkey and pumpkin pie this fall. Wine Country Living features a vineyard just as the leaves change around a beautiful countryside estate. Warmly lit windows, a lazily smoking chimney, and a sun-dappled cobblestone path all invite you in to enjoy the fruit of the autumn harvest.
Wall Art For Change & Reflection
Because it sets the mood of a space, switching up your wall art can also switch up your focus as you spend time there. Hang The Blessings of Autumn in the area you like to use to think quietly, set goals, or practice gratitude. The soft, dream-like quality of this painting reflects the change of the season through falling leaves and ripening pumpkins against a backdrop of a calm, restful home.
Shop Paintings For Autumn Home Decorating
Still not quite sure about which paintings would work in your home? See our selection of Limited Editions for autumn decorating in person. Stop by a Thomas Kinkade gallery in Placerville, Carmel, and Monterey today.