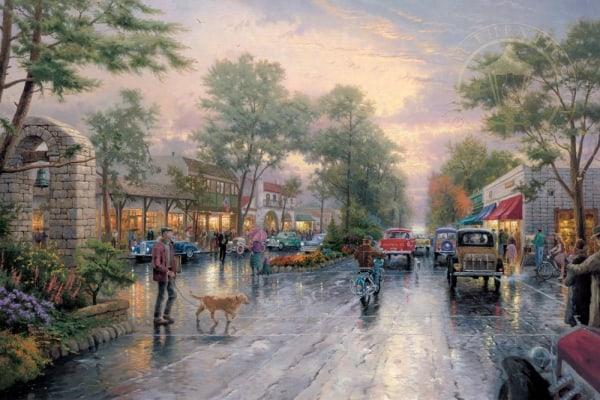 Looking for fall decor ideas that don't feature your traditional pumpkins, witches, and maple leaves? Go coastal this year with paintings of sunny California. Our fall wall art can capture everything you love about the Sacramento, San Francisco, and Monterey Bay areas during the cooler, rainier days of the year.
Explore Autumn Decor, California Style
Make home decorating more interesting, or treat your favorite holiday host to artwork that reflects our region. Skip the pumpkin paintings and explore California wall art this pumpkin spice season.
Wall Art With A Touch Of Autumn Color
Sure, living near Central Valley or Salinas Valley farmland can mean your morning walks look a lot like a scene captured in our harvest autumn paintings. However, on Dolores, Lombard, and Hyde Streets, the first changes from green to oranges and reds are beautifully blended into city life.
Scenes of warm, glowing windows, shoppers browsing in light jackets or long sleeves, and classic cars with the tops still down can be the minor changes your walls need to express the season in a unique, California-cool way.
Rainy California Paintings
California in fall is more likely to mean rainfall than snowstorms. Decorate your home or business for autumn with cityscapes featuring glistening streets and colorful umbrellas. We carry Carmel and San Francisco paintings that show Fisherman's Wharf and Ocean Avenue bustling after a rainy season shower.
Misty Morning Wall Decor
As the temperatures cool in Northern California, early morning humidity can stay close to 80%. This makes the wee hours a sight to see. It's just one of the beautiful benefits of living so close to the Pacific Ocean.
Whether you want to focus on coastal cities or the beaches around the Golden Gate Bridge, why not decorate for fall with the small touches of this magical mist?
Capture California With Paintings For Fall
Shopping for California-themed wall decor can be as simple as stopping by one of our local Thomas Kinkade art galleries in Placerville, Carmel, or Monterey. Ask to see paintings of misty mornings, rainy days, or the first glimpses of fall foliage in or near your favorite Bay Area cities today.