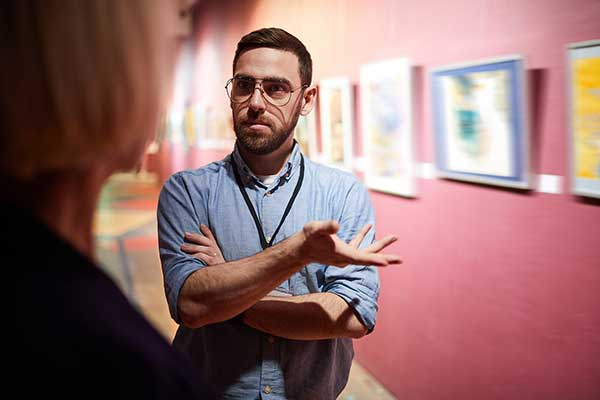 One of the best things you can do as a new art collector is to get to know your local galleries. Once you find your local museums, studios, exhibits, and art centers and spot a painting you're interested in, what's next? You don't have to go into your next fine art purchase blind.
We've put together 6 great questions to ask at an art gallery to get you started on the path to owning your next favorite piece.
Could you tell me about the artist?
How do I find out more about the painting?
Are there other available works in this theme or collection?
Is the work unique or an edition?
How do I display the work?
What documentation is available?
1. Could You Tell Me About This Artist?
Finding out who created your art can open you up to a whole new world of works you might also be interested in. Maybe this individual creates in a unique way or only works in one palette or subject.
When you visit our Carmel art gallery, you may find paintings by Thomas Kinkade, Zac Kinkade,  Marjolein Bastin, or Eric Dowdle. Each artist has a unique style and story.
2. How Do I Find Out More About This Painting?
In addition to who created the work, you're interested in, visiting a fine art gallery gives you access to knowledgeable art enthusiasts who can share backstories, inspirations, or clue you into hidden gems you may miss on your own. These stories create a deeper connection and add value to each piece.
Did you know that Thomas Kinkade often added hidden Ns in his paintings to honor his wife? Our knowledgeable Kinkade Gallery Art Consultants can point out Easter Eggs like this that you can then share with admirers of your collection.
3. Are There Other Works In This Theme Or Collection?
Creating a completely eclectic art collection can be interesting, but so can the cohesiveness of fine artwork in the same collection or theme. Asking gallery staff about similar pieces or paintings from different collections with the same theme has its advantages.
If you let our Art Consultants know you love a painting from our Passport to Adventure collection, they can introduce you to other fine art in this series and even let you know when the next new release in the collection comes out.
4. Is This Work Unique Or An Edition?
When valuing your artwork for investing and insuring purposes, you'll want to know if the item is one-of-a-kind, Limited Edition, or Open Edition. This gives you a good idea of how available the collectible is and how likely you will be able to sell it in the future.
Owning unique or Limited Edition fine art is pleasurable for its own sake as well, even if you never plan to sell. We offer paintings in 15 different distinctions, from Originals (O/R) to Serigraph Artist Proofs (SE/AP) and even Estate Editions (E/E).
5. What Documentation Is Available?
Being told about the sculpture, photo, or painting on canvas you are interested in is helpful, but you will want clear documentation upon making a purchase. Art insurance companies, auction houses, and fellow collectors are unlikely to take your word for it when it comes to valuing artwork.
Our California art galleries always provide documentation proving authenticity for each painting you purchase with us. Both Thomas Kinkade Limited Edition and Open Edition artworks include a Certificate of Authenticity and bear marks of authenticity and distinction.
6. How Do I Display The Work?
Sure, the painting looked fabulous hanging in the gallery, but what about when you get it home? How can you make sure your artwork looks its best? Gallery staff should be able to advise you on everything from framing to proper hanging hardware to lighting.
Say Hello To A Kinkade Art Consultant
Stop by our California art galleries in Monterey, Placerville, and Carmel to explore our collections and talk to a Thomas Kinkade Art Consultant today. We look forward to helping you look beyond the surface of your fine art to make art collecting as enjoyable as possible.