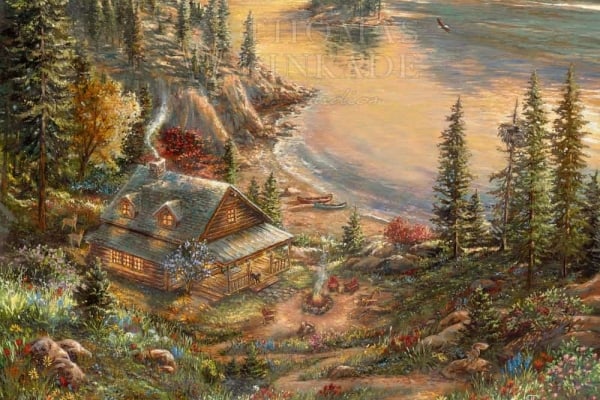 Embrace the farmhouse decor trend with rustic wall art. Decorate for fall with artwork that reminds you of forest walks and crisp, cool air around a campfire. Add the comforts of a forest getaway to your home or office any time of year.
At Thomas Kinkade Monterey, Placerville, and Carmel, we've put together 6 of the coziest-looking cabin paintings for you to choose from.
1. Lakeside Splendor
In Lakeside Splendor, a well-worn dirt path leads you down to a group of Adirondack chairs surrounding a smokey fire pit. The family dog races down the front covered porch to meet you in front of a cabin amidst windows aglow. Hang this wall art to transport yourself anytime to a cozy, secluded getaway.
2. Evening at Autumn Lake
The autumn cabin in Evening at Autumn Lake sits quietly in front of a misty mountain sunset. Trees still sport a nice layer of orange and red leaves. Horses graze out front among the fall foliage. It's easy to imagine crossing from the riverfront to the calm dirt path or wading alongside the ducks as you listen to the gentle burble of falling water.
If you're looking for decorations for fall that encourage feelings of peace and tranquility, check out this cozy cabin painting.
3. Mickey and Minnie — Sweetheart Campfire
Decorate guest rooms for little fall visitors, or show off your love of all things Disney with Mickey and Minnie — Sweetheart Campfire. This cabin painting captures the sense of a quick couples getaway, complete with s'mores, fireflies, and a babbling brook.
If your group getaway plans are still put on hold this year, gift Mickey, Minnie, and Pluto instead. Send them daydreams of trips to come.
4. Mountain Paradise
For many, a trip to the cabin means it's hunting season. Gift the beauty of a cozy retreat complete with pheasants to a hunting enthusiast friend or family member. In Mountain Paradise, you get a painting of not only mountains, but some of the most popular game foul around. A set of fiddles wait quietly on the covered front porch to celebrate the capture of your wild Thanksgiving turkey.
This fine art is just the wall decor for a man cave, hunting lodge, or rustic country kitchen.
5. A Peaceful Retreat
Pops of autumn color also grace the landscape around the cabin in A Peaceful Retreat. A fishing boat is waiting to take you on a languid row along the forested river, while a single Adirondack chair and a smoking chimney invite you to relax upon your return.
This cozy cabin painting will have you dreaming of a fall evening on your private dock, feeding the ducks as you let your mind water and your heart rest.
6. The End of a Perfect Day III
Your entryway or living room can dress up for fall in a big way with The End of a Perfect Day III. The cabin is still cozy in this painting, but the overall effect is majestic. Dappled sunshine lights up the rich colors of the forest, and electrical lights brighten a far-off path, promising days of scenic walks and plenty of mountain hikes and lakeside fun.
Get the full effect of this autumn wall decor by choosing a size large enough to make a big impression.
Shop Paintings Of Cabins In California
Let our Art Consultants know the type and size of home decor you're looking for, and be prepared to choose from a plentiful selection of fine art. You can find us at Thomas Kinkade Monterey, Placerville, or Carmel. Stop by our California art galleries to explore our selection of cozy cabin paintings today.