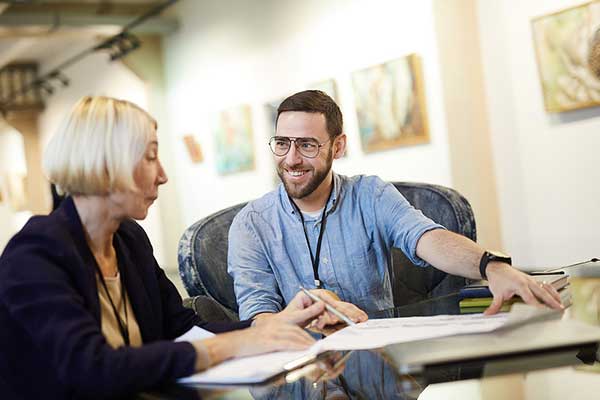 You have most likely thought about who will take care of your children and inherit beloved pets, but have you taken the time to plan the ultimate destination of your carefully curated art collection once you are gone? A little forethought and planning today can give you peace of mind and take one more worry off your heirs' plates.
To help you get started, we've put together three tips to help art collectors with estate planning that includes paintings, photography, sculpture, and other collectibles.
Choose An Executor
Talk To Your Heirs
Decide On A Plan Of Action
1. Choose An Executor Or An Art Executor
One of the first decisions you'll want to outline in your estate plan is your choice of executor. This is the person who will be responsible for actually carrying through with the plan. When estate planning with artwork, choosing a specific art executor makes sense.
This keeps decisions surrounding your art collection management in the hands of someone knowledgeable about the industry.
Tips For Choosing An Art Executor
Choose a neutral party instead of a person or organization with potential conflicts of interest.
Select an executor who lives nearby in case they need to provide signatures or appear in court.
Consider setting up an advisory group or giving your trustees the power to seek advice from someone knowledgeable about the art market.
2. Talk To Your Heirs About Your Artwork
Talk to your heirs sooner than later about your estate plan, including your plans for your artwork. The last thing you want is to introduce contention or for family members to be spending their inheritance lawyering up because no one can decide on how to divide up your property fairly.
You may think only collectors with extensive or extremely valuable collections need art estate planning. Still, you'd be surprised at who will come out of the woodwork and what they will fight about without a plan to prevent these circumstances.
3. Decide On A Plan Of Action For Your Collection
In addition to selecting an executor and talking to whoever you choose to inherit your collectibles, you'll want to create a clear outline of what steps you want to be taken with your collection. You may find that your painstakingly acquired paintings and priceless antiques aren't as dear to other family members as they are to you.
In that case, you can simply request that your executor auction off the art or donate it to the museum of your choice to be enjoyed by patrons for decades to come. If you are keeping your art collection in the family, you can make caring for each item simpler with a plan.
Tips For Organizing Your Art Estate
Keep original paperwork organized & accessible to your executor.
Make sure you have backup copies in case the originals degrade.
Spell out decisions now in case you can't later on.
Include information on conservation and tips for correct display.
Reward Yourself For Thinking Ahead
Estate plans can be time-consuming and emotional for an art collector. Give yourself a break if it all starts to become overwhelming. We invite you to visit your favorite Thomas Kinkade fine art gallery in California. Our Monterey, Placerville, and Carmel area Art Consultants may even have a must-have Limited Edition just waiting to join your collection. Stop by and see us today.