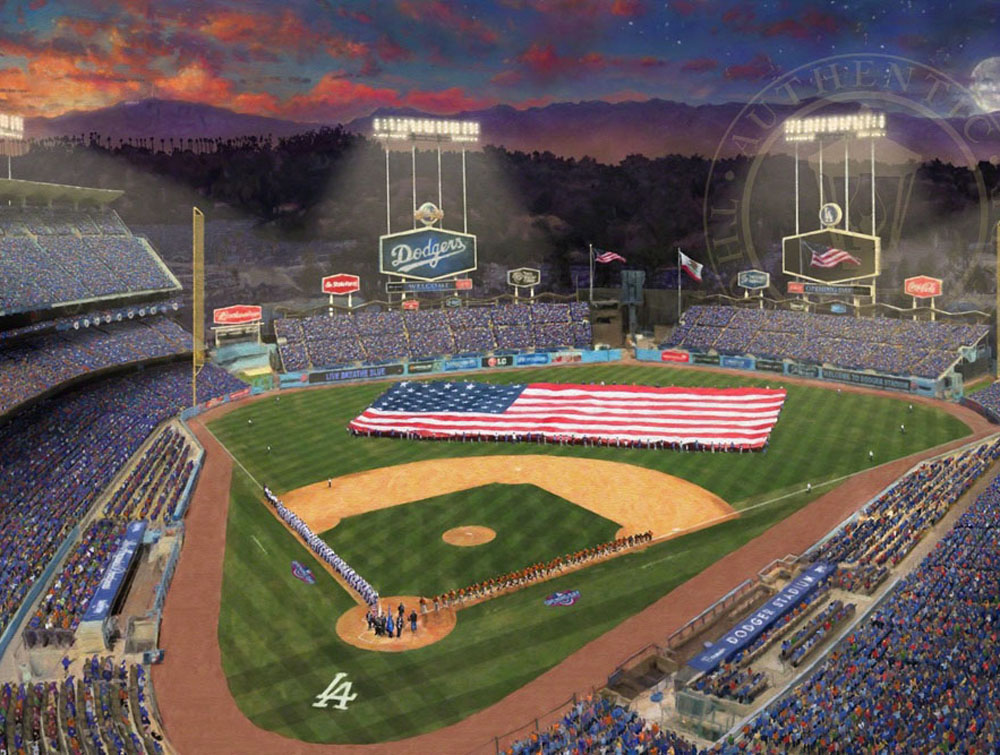 To add a touch of summer to any room or find a great gift for the ball fan in your life, stop by one of our galleries for baseball stadium paintings. Nothing says tradition, team spirit, and a fun day out like baseball. No one freezes precious moments in time like Thomas Kinkade.
See how Limited Edition fine art can bring your favorite baseball locations to life for generations to come.
Capture Memories With Baseball Stadium Paintings
Los Angeles, Chicago, New York City, San Francisco, Boston, and Anaheim are all homes to the stadiums and games that have touched our hearts and lives. By capturing your favorite baseball stadiums on canvas, Thomas Kinkade has made it possible to bring the bright lights, the colorful signs, the call of hot dog vendors, and the roar of the crowd home. See how the following baseball stadium wall art can bring the comfort of nostalgia and the excitement of games to come into your space:
Painting The Great American Pastime
The crowd roared as an image of Thomas Kinkade in the act of painting World Series™, American League Champions, Anaheim Angels flashed onto the screens above them. He truly reveled in capturing everything from the collective hopes of the fans around him to the smell of the cut grass and the patriotism of the field during the national anthem. These baseball stadium paintings are your gift to a fan from a fan of the greatest American sport.
Baseball Art Is A Home Run
Are you looking for a commemorative gift of a day at the park for a baseball lover? Maybe your once upon a time little leaguer is packing to play for his college team or celebrating his first father's day with his future favorite ball player. Our baseball stadium paintings are the perfect solution. They are also an excellent choice to brighten up the game room, study, or office.
Find Your Favorite Stadium On Canvas
You don't need to leave your home or office to immerse yourself in memories of your favorite ball players or play by plays. Just stop by one of our galleries and pick out gorgeous Limited Edition baseball stadium paintings. We look forward to helping you find the piece that speaks to you.